30 Apr 2019
KEDCO INTERVIEW: "Innovative Ways to cut AT&C Losses"
Interview with Ravindra Joshi, Chief Driving Officer, Kano Electricity Distribution Company (KEDCO) in Nigeria - deputed by Tata Power Delhi Distributed Limited. At the upcoming African Utility Week and POWERGEN Africa he is part of the exclusive Utility CEO Forum.

1. At the upcoming African Utility Week and POWERGEN Africa you are part of the exclusive Utility CEO Forum. This is an exclusive, closed meeting between utility leaders. What are you most looking forward to and what are your expectations from these discussions? What are you hoping to learn?
I understand about 40 CEOs are going to be part of Utility CEO Forum. In this exclusive closed door meeting I will be looking forward to meeting CEOs which have similar business environment and associated challenges, so as I can network and make a lasting learning partnership. I may also look at future benchmarking opportunities with each other, which is the fastest way to learn from each other. The sessions are also going to throw discussions and I plan to capture learnings from those discussions. I also plan to share my success story of Kano, considered to be tough environment where I could bring down AT&C Losses by > 15% in a short duration of 2 years.
2. You are also addressing Accelerating customer service to drive utility revenues with a coase study entitled: Innovative Ways to Cut ATC&C Losses – can you give us a preview of what your message will be at the event?
The two main objectives of Distribution Business are Customer Care and Getting Paid for Electricity Supplied. Under Customer care falls supply of Quality Electricity for good hrs in Nigerian and African context. These objectives are best handled once we know our customers well. To know the customers well, comes classification of customers in various segments like, MD Express Customers, having connected load of > 250 kw, and MD Large Customers having connected load of > 50 kw, who are few and need non-stop power and pay well for that and normally in time. Then comes HRB (High Revenue Base) which are smaller than MD and are small industrial and very large house/commercial premises having 15 kw to 50 kw connected load. Then comes the middle class of the society which is falling under HCB (High Consumer Base), and about 50% customers fall in this category. The last segment of society who live in poor Village conditions, are classified as SCG (Special Consumer Group).
HRB and HCB Customers need more hrs of supply, and revenue recovery is by disconnecting the supply in case of non-payment of bills and booking of theft in case of stealing of electricity. The last segment is called SCG (Special Consumer Group) in Tata initiative and in Kano, Nigeria also we are calling them the same. These customers typically have connected load of less than 1 kw, or couple of lamps, fan, and at times small TV. In Nigeria, this segment, in many cases, are Village Customers. These customers because of low paying capacity are ok with less hours of electricity and have issues with paying bills. For SCG segment Tata have implemented "Winning The Heart" model, and has been rewarded by Tata group and World Bank as "Best Implemented Innovation". In this model, various low cost social benefit schemes are implemented by Utility company at their cost, customers become so happy that they start paying their electricity bills, and thus the model is called "Win Win" and is sustainable.
For management of different segment of customers there are separate dedicated teams at corporate level, which keeps on feeding data to Regions for various operational needs. All this has been implemented in KEDCo, Kano, Nigeria and revenue increased by 60 to 70%, ATC&C losses are reduced by > 15%, CE improved by > 17% and all this in just one year of Tata coming to Kano. I will be sharing strategy adapted to handle each segment of customer and how results are looking up. All actions are very simple and do not need any investment and are highly effective to improve efficiency all the way.
3. Tell us more about your background?
I am an engineering graduate from IIT Roorkee of India and Full Time MBA from Lancaster University, UK. I have worked in corporate world in India, SE Asia, Africa and Europe all through more than 3 decades handling power, energy and its management.
For last two years I have been deputed by Tata Power, Delhi to KEDCo, Kano, Nigeria and am working here as Chief Driving Officer, running utility company covering 67,000 sq km area and a population of > 20 mn. I improved efficiency parameters here as follows:
Snr. No.
Parameters

1 Year Before

June 2017

1st Year

(July 17 - June 18)

2nd Year

(July 18 - March 19)
Best Month
1

Avg billing/mth

(N mn)
3,029
3,750
3,969
4,318
4

Avg Collection/mth

(N mn)
1,459
2,002
2,431
2,721
5
CE (%)
48.18
53.38
61.24
70.25
6

Avg Grid Energy Received

(MUs)
134.4
158.8
155.7
169.56
7

Avg Energy Billed

(MUs)
109.96
129.59
132.1
141.81
8
BE (%)
81.82
81.60
84.83
84.823
9
ATC & C Losses (%)
60.58
56.44
48.05
40.70
I got 2018 MDs Special Award for turnaround of KEDCo by increasing CE, ATC&C Losses, BE and Revenue Collection per month drastically. I also got special appreciation from MD of KEDCo for cutting down theft in a big way and bringing in a performance driven culture across all levels of KEDCo team including top management. Introduction of PMS (Performance Management System) brought in a big change.
I have done operations, design, engineering, procurement, construction and commissioning of numerous projects followed by putting all in operations to add value to organisation. I am Ex Treasurer and Chair-Human Technology Challenge Standing Committee of IEEE Delhi Section Executive Committee for about 10 years. I have also been very active Executive Committee member of IEEE PES Delhi Section. I have been invited as speaker in several Global Conferences in both Technical and Socio-Technical areas. Prior to being deputed to KEDCo from Tata Power Delhi Distribution Limited, I was Head of Department of Special Consumer Group, catering to power distribution to 0.2 million Consumers. Billing Efficiency improved from 48% to about 86% and Collection Efficiency from 67% to more than 98%. The revenue collection has improved from less than USD 1 million to 21 USD million today. I was able to achieve all this through innovative strategy, teamwork, focus to key results and customer satisfaction measures. I have won Tata Innovista 2017 Global level award for 'Implemented Innovations' for this achievement.
Before this assignment I have been Region Head where the losses were cut down in toughest segment of customers. Prior to Region Head as Project Head I have implemented fully automated SCADA compatible 66 kv grid projects to automate operations and also HVDS (High Voltage Distribution System) projects which led to Industry segment losses reducing by from 65% to about 3% today. I added transmission capacity by about 700 MW and added grid capacity by more than 400 MVA. Implemented projects worth > USD 92 mn consisting of 66/11 kV fully SCADA automated grid stations, overhead transmission tower lines, transmission lines, underground cabling.
I have been trained and certified auditor of Tata Business Excellence Model, a quality initiative of Tata group and assessor for Tata Council for Community Initiative. I am Winner of Outstanding Chapter Engineer Award for 2010, of IEEE-PES. I got several awards in Tata, including for Best IMS Auditor, Best Trainer, and Best Innovator. In Tata I have been key leader to plan and implement Corporate Social Responsibility activities and successfully organized Blood donation camps, Plastic free drive in parks, Tree plantation, Cycle Rally, Walkathon, energy saving drives etc. I have been Active Core Member, IIT Roorkee Alumni Association and Delhi Coordinator, Lancaster University Alumni-Delhi Chapter.
Over the years I have been trained in Blue Ocean Strategy, Japanese industry overview tour to Toyobo, Toyo Denki and Teijin Seiki, Technical Management Training by Caterpillar-USA, Exposure to Australian Industries, attended several General Management Programs in India and abroad, Labour Laws in view of Globalisation of Economy, Exposure to Korean Power distribution system having lowest losses globally, proficient in Hindi, English, Indonesian and Malay language, travelled to USA, SE Asia, Europe, Japan, Korea, Hong Kong, China, Africa's, many of these several times. The travel has given me a good exposure to humanity, and no wise I have covered 61% of humanity because of travel.
To keep fit I practice Yoga, meditation, sports, positive thinking and smile technology.
4. As a technical partner with KEDCO, what were your expectations before coming to KEDCO and to Nigeria in general?
Well, to be frank, I had travelled across all continents of the world, except African continent. So I was excited that to see life in all continents of the world. Then to see wild life in Kenya has been my dream, so I was pretty happy that my ambition of seeing the best wildlife of the world is going to be fulfilled now.
On work front, I was informed of high ATC&C losses, near 60%, so I saw a great opportunity to set the things right and achieve a good delta improvement in results. I had worked hard with Tata and I was confident we can do that here, Nigeria being a developing economy. I was also confident of people of Nigeria based on our great leader, Mahatma Gandhi getting his inspiration from lands of Africa. I was confident I am going to live and know more about our African brothers and sisters and African society as a whole. I was told about security concern in Nigeria, but I know life is about facing challenges.
On Technical front I was told things are in very bad shape as regards CBs (Circuit Breakers), Protections etc., but I found it is not so bad, though there is huge potential for improvement There are Technical major issues at TCN (Transmission Company of Nigeria) end too, which need action.
5. What is your current role in KEDCO? And what are the management's expectations from you?
My current role in KEDCO, as Chief Driving Officer, is to turnaround the company and that is what I am doing. The main crisis area was when Tata Power team came, very low revenue collection, < N 1.50 bn per month @ 48% CE (Collection Efficiency). Therefore, management expectation from me is to increase revenue per month, and that has been my focus till now. In fact from the time I have come, I took a strategic decision that once revenue per month is increased CE will go up and thus ATC&C losses will go down, so I keep single point focus of increasing revenue. I am now improving results in KEDCo with the support of CEO/MD and driving key leaders and other team members. I work very closely with CEO/MD and various key leaders in KEDCO, especially direct reports of CEO/MD in all functional areas like Technical operations, Customer Care, Revenue assurance and HR. I have a mandate and delegation from CEO/MD to Guide and Mentor all Chiefs and other key leaders. I set the KRAs for all key positions.
The results are showing and in Nov 2017, KEDCo first time collected N 2 bn over a month. It was turning point in the history of KEDCo. The staff got incentive for first time in the history of KEDCo. The same staff which used to be happy once salary alert was received, are now getting incentive for their hard work. Since then there has been no stopping us. We achieved the second milestone within few months and in April 2018 we achieved more than 2.5 bn collection. This saw a quantum jump in CE and reduction of ATC&C losses. The CE jumped to 67% and ATC&C losses reduced to < 45%, from a level of CE being 48% and ATC&C losses near 60% in 2017. In Oct 2018 we saw a peak achievement of CE > 70% and losses near 40%.
6. Since joining KEDCO, you brought a number of innovations and strategies on board, what are some of the strategies you brought and how relevant are they to KEDCO's corporate objectives and Nigerian power sector reform?
Tata is driving various key initiatives like plugging theft in MD and HRB customer segment, and for this we established an Enforcement Department. The focus area was derived as feeders which have only MD customers and have huge theft. Already big results have started coming in which will increase billing of MD customers, thus improved BE and high revenue collection and overall increase in CE. A target was set to catch few big thefts and it has been achieved. For HRB area theft from PPM bypass there are some successes but real results are yet to be achieved. Once MD customer's theft is getting plugged, more focus will be now on PPM theft plugging.
We segregated Non MD customers in HRB and HCB. HRB customers are high energy consumers and it was found by data analytics are being billed very low. We started a cell dedicated to management of HRB segment (>15 kW and < 50 kW) as next customer segment of focus.
We are also focussing on recovery from defaulters in MD segment. We started disconnecting supply of defaulting customers and it has given excellent results. Data analytics has given good results here (Already N 1,200 mn collected in a short period of 6 months.
In Technical area we want to implement key projects like auto-reclosure, set right Distribution Transformer management, install load management devices, reduce technical losses by improving PF (Power Factor), replacement of high loss lines with optimum size conductors and segregate MD and Non MD customers in feeders. We have implemented every day reliability report of We have also started doing detailed failure analysis of each major tripping and DT failure.
On the Social front we plan to innovate community relationship management, start CSR strategically. I have done data analytics and found about 45% of our customers stay in villages. Most of these village customers are poor and need a different strategy. We have launched SCG segment of customers as in Tata Power, Delhi. In this winning the heart model, already a pilot village is selected and implementation is already ON. Here a WLC (Women Literacy Centre) is opened and about 60 totally illiterate women are being educated. The revenue collection from this pilot village has already gone up by 40%.
In Business Excellence area we plan to roll out reengineered business processes by year end of 2018. Integration and training of staff to adapt processes will be done by Mar 2019. Some of the staff members will be given ISO auditor training and will become certified ISO auditor. The ISO certification target is June 2019. In between several processes are being developed and being rolled out. The other initiatives we plan to drive is energy efficiency. This will be highly remunerative since response rate and CE in non MD segment is still very low, near 30%. Energy efficiency also gives good brand value to company since it benefits Nigerian as a whole. By year end, we plan to roll out 5S, 5S to improve housekeeping, safety and improve KEDCo brand.
In HR (Human Resources) front several initiatives are already rolled out or are in different phases of implementation. Some of them are effective KRA setting, performance appraisal, and promotion policy and performance management. We have already launched concept of structured and all numbers based MIS across KEDCo for all Units, Chiefs and other key responsibility centre.
In Finance we have plans to rework cash flow management to make it ROI linked. The good vendors will be rewarded with better opportunity to partner with us.
7. What were the challenges you encountered in discharging your task? How are you overcoming them?
I come from India, a developing country. India is a vast country and we have developed to developing pockets and states. Then we have backward areas. We still have issues the type I saw here. As soon as I see a challenge I remind myself of similar challenges in India. I therefore, kept my positive thinking active. This helped me a lot in overcoming challenges. There are several areas where I found things are better than India, so this helped me settle down and deliver more in less time.
My team here and my guiding superiors in Delhi have been a great support and they have been advising and resolving issues which generally come up while you are settling in a new country far away from your home, and you have to deliver month over month. The Tata culture of delegation and support is one of the key to my success here.
In KEDCo the dynamic CEO/MD has been a great support and he has always stood by us for delivering all good things here. It is natural for current staff to show resistance to change, but the support system by key staff has been superb. In general staff is very friendly and all know that Tata are here to improve, which helps a lot in implementing initiatives. We found good motivating words by CEO/MD in all forums highlighting revenue improvement brought by Tata, enthused me more and more.
There were challenges in settling down related to our Guest House and other logistics, but now we have strategically resolved all issues with good support of KEDCo management.
8. What are your short and long term plans for KEDCO?
My short term plan is to focus on enforcement in MD and HRB segment. We have already crossed N 2.5 bn monthly collection level and by increasing effective enforcement in MD and HRB segment, we expect to reach N 3 bn which will help us achieve ATC&C loss level of 35%. Once we start realising MDA dues and settle outstanding due to MAN variance, we will further cut down ATC&C loss level. In HRB segment PPM bypass aggressive enforcement will be done. We plan to shift MD meters out near sub-station with properly sealed boxes housing CTs.
We plan to start interacting more with NERC to propose and convince effective regulations in line with DERC (Delhi Electricity Supply Regulatory Commission).
In medium term 2018-2020, Technical loss reduction by improving PF, CE improvement by load management devices will help us cut ATC&C losses by another 5%, and reach a level of < 20%. In this plan we will implement replacing inefficient lines where conductor size is even half of what it should be. This will be done first for feeders where MD and HRB customers are there. There is lot of work to be done in Feeder energy metering area.
During 2019-20 we will first launch pilot of "No Cash Handling", except by cashiers, as is practiced in Tata, Delhi. We also plan to roll out multiple payment avenues for convenience of customers. We will also implement centralised Billing and Collection systems. We are in the process of upgrading our billing software. The Sage ERP will also be launched in medium term which will help streamline company operations.
We expect about 5% improvement by already rolled out Performance Management plans like KRAs setting, MIS monitoring, CCG concept, establishing processes for all our Units during 2019-2020.
In metering area, we will implement AMR first for MD customers, then for HRB customers during 2018-2020.
In medium to long term we will explore embedded generation sources to meet demand in remote areas. Setting up micro grids with Solar Power base is a good option to supply power to far off villages.
The SCADA, DMS, OMS will be rolled out in long term, starting 2021 in phased manner, first with priority injection substations. The integration of various systems will be also implemented during long term period 2021-22.
9. Where do you see KEDCO in the next five years?
I see KEDCo as rated no. 1 utility among all 11 Discos of Nigeria, anywhere around 2019 to 2020. We are already seeing delta improvements within 1 year of Tata practices being implemented here and ATC&C losses coming down from 60% to 46%, Collection Efficiency improving from 48% to 66% as achieved in April 2018. With theft cut in MD segment, very soon we will see improvement in Billing Efficiency. Going by this rate, following growth path is highly achievable:
Expected Results Next 5 Years: ATC&C Loss Reduction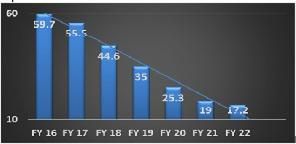 The above reduction in losses by any world class standards is excellent. The CE by 2022 will be @ 92% and BE @ 90%.
Expected Results Next 5 Years: Consumer Growth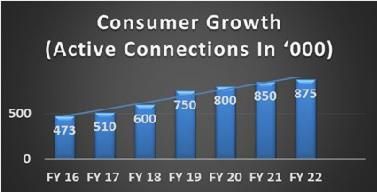 Expected Results Next 5 Years: Customer Satisfaction Index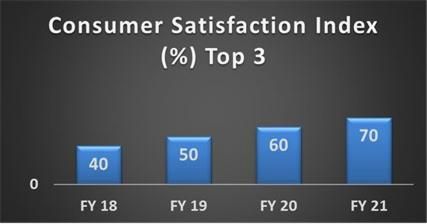 Top 3 is customers who have rated KEDCo as Excellent, Very Good and Good in survey.
The above improvements will make KEDCo as leading Benchmark utility in Africa and several other developing countries. We will see KEDCo receiving awards in various conferences and from professional institutions like IEEE, IEC etc. I also see our staff growing professionally and being sought after across Nigeria and African continent.
After 3 years I see KEDCo even generating some revenue by offering consulting and advisory services across Africa.
In 2019 KEDCo, Kano best practices are being implemented in Kaduna Electric.
10. What other ways do you think can improve our mutual relationship with customers, such that will change public perception about KEDCO positively?
I will say our relationship with customers is linked to CE too in some ways. If KEDCo is not getting its bill paid, it becomes a hollow relationship. But the way we are progressing and we saw quantum jump in CE to 70% level, once we start touching CE of 75 to 80%, we will be talking to customers with inner smile, and that will be another turning point for KEDCo. We will have more funds to introduce motivational schemes like Pay and Win, Best Customer Awards, introduce social benefit schemes and all this will see a quantum jump in CSI (Customer satisfaction Index) and yes another 5% jump in CE, only with better customer relationship.
We are also coming out with Whistle Blowing Policy, which will bring lot of improvement in integrity issues area, and the money which is actually paid by customer and is not actually received in KEDCo account, will start getting paid in KEDCo account, and this will be another major turning point of Customer Relationship. We have already launched measuring CSI (Customer Satisfaction Index) this year starting with MD customers, HRB, HCB, SCG Customers will follow soon.
In 2019 we are expecting to complete CAVTI (Enumertaion) to 100% level. This is another mega turnaround in knowing our customers and we expect to add another about 30% new customers in system.
In between we will continue with community engagement, Pay & Win schemes and brand building low cost drives, to remove the word NEPA and we be called KEDCo. All these initiatives are drawn from our Tata successful experience in Delhi, India.
11. Any final words?
I will say what we need is positive frame of mind, a will to achieve goals and in spite of challenges keep moving forward is the key to success. The sustained growth will come by giving 24 hours steady electricity to MD and HRB customers and increasing power availability to HCB segment based on revenue generated from MD and HRB consumers and government policy support to give power to poor customers for more hours in a day. We will be happy as more children study with uninterrupted electricity and thus their overall improvement in quality of life. The industry will grow more, once power is stable, leading to more employment opportunities for more and more.
12. How can interested parties contact you?
If anyone wants additional information or inputs. As Tata we are also open to partner any utility or transmission company for bringing in improvements, like reduce ATC&C losses, increase revenue and CE (Collection Efficiency) and increase BE (Billing Efficiency) by cutting down theft and reduce technical losses, improve CSI (Customer Satisfaction Index) by improving engagement at all levels of customers. My contact details are:
Ravindra Joshi
Chief Driving Officer, KEDCo, Kano, Nigeria.
Deputed by Tata Power Delhi Distribution Limited.
Email: ravindra.joshi@tatapower-ddl.com
Hand Phone: +2347013334482 (Nigeria No.)
Questions 3 to 11 are part of an interview conducted for Empower, KEDCO's official magazine.