10 Feb 2020
TED BLOM: 30%+ of SA mines could be terminated due to power costs
Exclusive interview with Ted Blom, independent power and mining expert and commentator and a partner in
Energy & Mining Advisors
. Mr Blom is a regular panellist and speaker at
African Utility Week & POWERGEN Africa
in Cape Town.
Power or the lack of sufficient supply was a strong topic during Investing in African Mining Indaba in Cape Town last week - your view?
Absolutely. The whole South African mining and beneficiation sector was built on the back of cheap and abundant electricity availability.The current environment has changed drastically and most business (including miners and smelters) have NOT seen this coming despite my continued warnings since 2008 and 2013 that Eskom's business model was broken and very corrupt. Only in the past two years has business started waking up to the new reality, but NONE have reviewed their business models to incorporate the new electricity reality.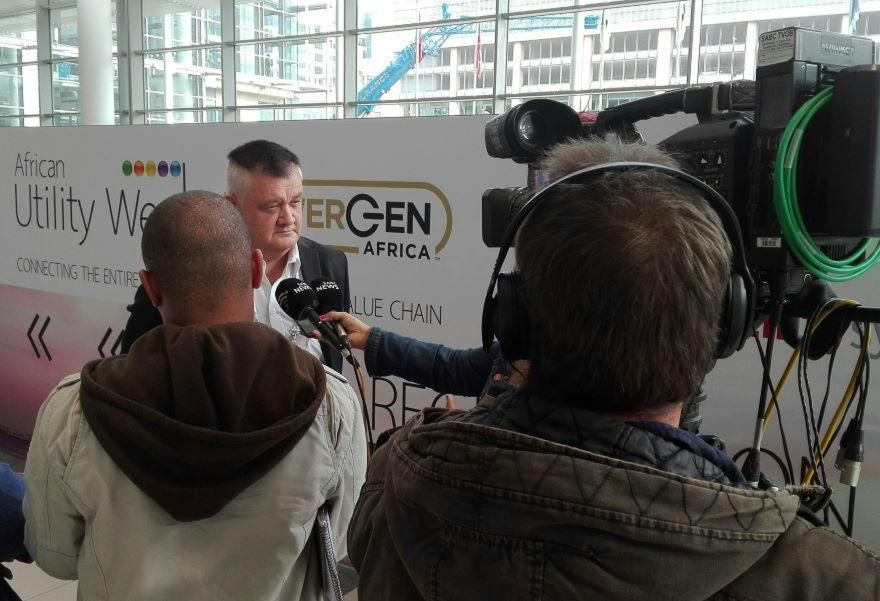 Caption: Ted Blom addresses the media at last year's African Utility Week and POWERGEN Africa in Cape Town.

What is your opinion on Minister Gwede Mantashe's suggestion that Eskom should not be the only company to generate power in South Africa?
It is to be welcomed that Government is loosening the Eskom stranglehold on the power supply, but I do NOT think the suggestion of additional suppliers by the government is entirely honest. The whole electricity supply industry (ESI) needs revamping, not just tinkering on the peripheral. I have been calling for this restructure for more than five years. Ideally, the ESI should be liberated, given that Eskom has been strangling business and households since 2007 with corrupted tariffs beyond affordability.

He also said the government had conceded that it must allow mining companies to produce energy for their own use. Your reaction?
Whilst this is not much of a concession, as it is the admission of total government failure to manage Eskom in a sustainable manner. This "decision" is welcomed but as law-abiding corporate citizens, we have to await the proper regulations to be promulgated as soon as possible, as continued load shedding will cut GDP contribution by the minerals sector by anything from 25%- 75% at a time when the country can ill afford it.
Do you know of successful projects like that?
Most mining projects in Africa provide their own power for operations, but that just increases the hurdle rate for committed capital to develop and run the project. The big difference is that provision of own power is already factored into those projects whilst South African projects have NEVER factored in the costs of providing own power. If suitable solutions are not found within the next 12 months, more than 30% of SA mining projects will be terminated prematurely due to additional power costs.
How will this change our energy landscape in the long run?
I believe the ultimate meltdown of Eskom as we are seeing before our own eyes has been a long time coming – the first signs were clear from around 2013, initial signals of corruption were evident from 2006, and close analysis will reveal that the wheels came off from 2001. The resultant change in the electricity supply industry will be permanent and radical as business and citizens grope for alternatives. The ultimate cost of corruption is the permanent erosion of Johannes van der Bijl's vision of cheap and abundant electricity as a key driver of the development of Southern Africa. We will pay the price for allowing such devastating corruption for decades to come.
* Hendrik Johannes van der Bijl was a South African electrical engineer and industrialist and is regarded as one of the greatest South Africans for his contribution to the country's development. He was the driving force behind the establishment of the South African electricity utility company Eskom. Source: Wikipedia
Will this impact the adoption of renewables do you think?
This sudden new demand will impact all suppliers to the ESI. I do NOT foresee any RE only systems deployed in the mining & smelting industry, although I do foresee many hybrid systems being deployed in order to address sustainability shortcomings of RE.
How do you think the new Eskom CEO, Andre de Ruyter and his team are doing? Any advice for him?
I have had the pleasure of a short introduction to the new CEO. I suspect that this appointment will turn out far more challenging and demanding than he ever suspected and I can only wish him well in what is a massive task against impossible odds. However, if De Ruyter fails at Eskom, I suspect SA will become a fully-fledged failed state, something too horrific to contemplate. I pray that the political meddling will now come to an end, but my worst fears is that it may still be getting worse.
Anything you would like to add?
Most people have taken Eskom for granted over the past 60 years – and that is how it should have remained – a top, world-class utility geared to provide cheap and abundant power to drive our Southern African economy to the benefit of all our citizens. Cheap and abundant power made SA a first world economy. The destruction of Eskom by the governing party and its rogue elements will drive SA into the 3rd world if we do not resuscitate Eskom to its former glory and stop the rot.
The power and energy challenges and success stories of the Commercial & Industrial sectors on the continent will be unpacked at the upcoming African Utility Week and POWERGEN Africa conference and exhibition from 24-26 November 2020 in Cape Town. Join the conversation!