29 Sep 2020
Webinar 30 September: Achieving financial health for East African utilities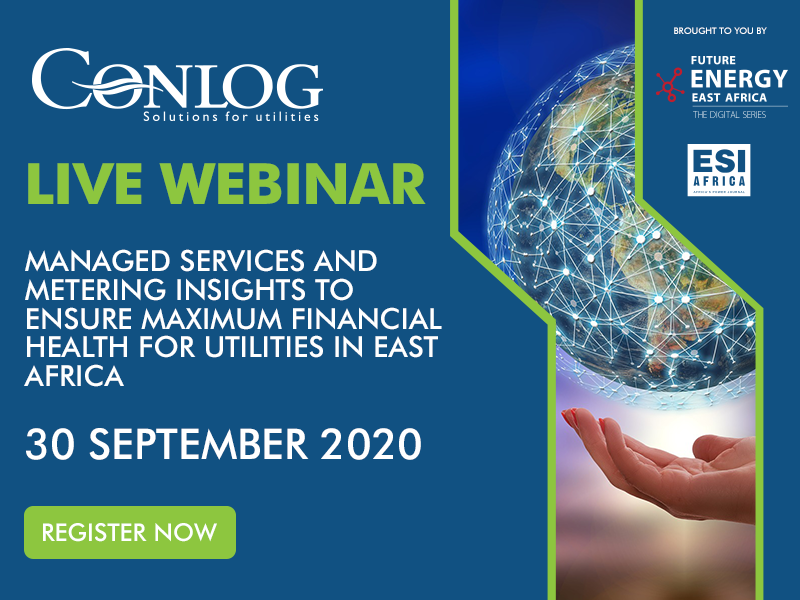 Join Conlog, Future Energy East Africa, ESI Africa and Smart Energy International for this live webinar discussion on managed services and metering insights to ensure maximum financial health for utilities in East Africa on 30 September 2020.
Broadcast date: Wednesday, 30 September 2020
14h00 EAT | 13h00 CAT | 11h00 GMT | 12h00 WAT
Revenue collection in utilities and municipalities has never been at as much risk as it currently is. Prior to the COVID-19 pandemic, revenue collection across sub-Saharan Africa was dismally low. In parts of Africa, for instance, it was suggested that 60% of revenue reflected on the books of municipalities would never be paid.
"Utilities don't need to continue operating in a situation where revenue collection and management is a daily struggle," says Viven Perumal, a speaker at the webinar and the marketing executive at Conlog, a leading smart meters and metering solutions provider to utilities, municipalities, and property management companies in South Africa.

He adds: "Technology is available to help them – technology which not only takes the realities of their current financial situation into account but considers the consumers at whom it is aimed as well. For both consumers and utilities, we offer services and products that are secure, convenient and reliable. The timing is perfect for utilities to embrace the shift to digital, to do more with less, to improve efficiencies and their financial situation at the same time."
Webinar moderator: Claire Volkwyn, Editor, Smart Energy International

Panellists:
- Viven Perumel, Marketing Executive | Conlog
- Desigan Govender, Product Manager | Conlog
- Lance Hawkins-Dady, R&D and Services Manager | Conlog
- Sibusiso Skosana, Commercial Director | Conlog

Post-pandemic world
If revenue collection from electricity sales fall in light of the ongoing pandemic, the impact could be devastating. Yet, as the financial realities of life in a post-pandemic world start making themselves felt, power theft and payment delinquency are on the increase.
Meters have long been a gateway to revenue collection and management for utilities. However, anything that can potentially impact the accuracy of a meter or a subsequent bill will compromise revenue in one way or another.
One of the key management responsibilities, therefore, is to ensure that the meter is as accurate, robust and reliable as possible; i.e. remains 100% functional, that vending is facilitated seamlessly, and that revenue management and revenue protection operate in tandem.

During this live session, we will showcase Conlog's ability to assist utilities in their pivot to digital in a time of huge uncertainty and financial pressure.
Specifically, the sessions will highlight the importance of remote insight into power usage, customer purchase patterns and detecting potential fraud. In addition, we will examine how easily, seamlessly and cost-effectively utilities can deliver superior customer service through remote vending, managed metering services and Conlog's cloud platform – saving the utility money and improving on customer engagement.
Click here to register for this free webinar.
Hosting platforms
Future Energy East Africa is the largest and longest running regional power conference and exhibition in East Africa, making it a well-known and trusted brand. The event recently pivoted to a fully fledged Digital Series with live conference sessions, technical presentations, networking opportunities and an exclusive Utility CEO Forum.

Smart Energy International is the leading authority on the smart meter, smart grid and smart energy markets, providing up-to-the-minute global news, incisive comment and professional resources.
ESI Africa – Africa's leading power and energy journal – is positioned as an impartial industry mouthpiece, delivering the latest technical developments, breaking news and analysis in both print and digital formats.

Clarion Events Africa
Clarion Events Africa, formerly trading as Spintelligent, is a multi-award-winning Cape Town-based exhibition and conference producer across the continent in the infrastructure, energy and mining sectors. Well-known events include African Utility Week & POWERGEN Africa, Future Energy Nigeria, Nigeria Mining Week, Africa Mining Forum and DRC Mining Week. Clarion Events Africa is also part of the UK-based Clarion Events Group's Clarion Energy Series, which runs over 40 events that cover the oil, gas, power and energy sectors, making it one of the group's largest portfolios.
The company also publishes the leading trade publications and media platforms in the energy and mining sectors, ESI Africa, Smart Energy International, Mining Review Africa and Power Engineering International as well as annual journals such as Global Energy Elites and Mining Elites.

Media contact:
Senior Communications Manager: Annemarie Roodbol
Telephone: +27 21 700 3558
Email: annemarie.roodbol@clarionevents.com