09 Nov 2020
Digital Energy Festival: The good vibes continued in week 3…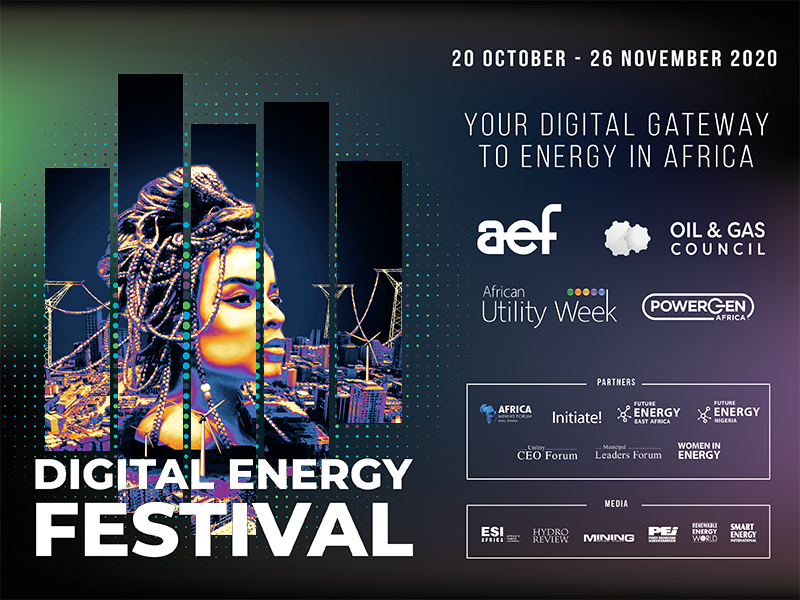 During last week, which was already the third of the six-week-long Digital Energy Festival for Africa, the good energy continued with inspiring sessions, ranging from the incredible potential of hydrogen as a clean energy source to really practical examples of how the energy sector is empowering women.
Some highlights ESI Africa and our sister publication Power Engineering International covered include:

Is Africa ready for the green hydrogen revolution?
The world is clearly embracing hydrogen as a clean energy source in order to decarbonise traditionally carbon-heavy sectors. Africa's readiness to embrace green hydrogen was a key topic discussed in the recent digital dialogue, moderated by Cornelius Matthes, senior vice president of Dii Desert Energy, MENA.

GBV: How access to electricity is empowering women
Power Africa's Nigeria programme has helped to electrify two centres in Lagos that are focused on protecting women against gender-based violence (GBV). This came to light during a live discussion on linkages between GBV and energy, entitled: "GBV and Electricity: What's Light Got To Do With It?"

5 Digital trends shaping solar potential in emerging markets
SolarPower Europe recently hosted a digital dialogue to explore how digitalisation is impacting the growth of solar power within emerging markets. The session was hosted by Merce Labordena, Senior Policy Advisor at SolarPower Europe and an expert panel of speakers. Together, they identified five areas in which digitalisation is driving growth in the deployment of solar solutions.

Utilities don't need to solve energy poverty by themselves
Energy poverty is direr in some African countries than others. Likewise, in Asia, overcoming this challenge requires collaborative efforts between the public and the private sector. During a fireside chat, Kristina Skierka, CEO of Power for All, sheds light on the organisation's initiative that is geared towards improving energy access. According to Skierka, utilities are not the only ones responsible for the task.

Factors hindering women participation in STEM and how to address them
Low enrolment numbers among women in the field of STEM has been identified as the key challenge to ensuring maximum participation of females in the energy sector. The session on utilising STEM initiatives to empower women in the energy sector was hosted by the Nigerian Rural Electrification Agency.

IPP Office Head and Eskom CEO co-chair investor energy roundtable
For the first time, Eskom CEO André de Ruyter and Tshifhiwa Bernard Magoro, Head of South Africa's IPP Office will Co-Chair an intimate boardroom meeting during the Africa Energy Forum. The past months have seen a significant shift in relations between the two sectors' stakeholders, with Eskom coming out in full support of the regulators' approval of the IPP Office's 11.5GW Round Five procurement programme.
FULL PROGRAMMES:
For more information on the exciting and packed programme and to register for the Digital Energy Festival:
– Africa Energy Forum sessions, click here
– Oil & Gas Council sessions, click here
– African Utility Week & POWERGEN Africa sessions, click here – FREE access
– ESI Africa sessions, click here – FREE access
The Digital Energy Festival is hosted jointly by four of Clarion Events' leading energy brands Africa Energy Forum, African Utility Week & POWERGEN Africa and the Oil & Gas Council's Africa Assembly and the leading energy journal ESI Africa providing six weeks of compelling content until 26 November.
Clarion Energy
The UK-based Clarion Events Group's Clarion Energy Series runs over 40 events that cover the oil, gas, power and energy sectors, making it one of the group's largest portfolios.
Media enquiries:
Senior Communications Manager: Annemarie Roodbol
Telephone: +27 21 700 3558
Email: annemarie.roodbol@clarionevents.com