19 Oct 2020
For utilities in West Africa to survive…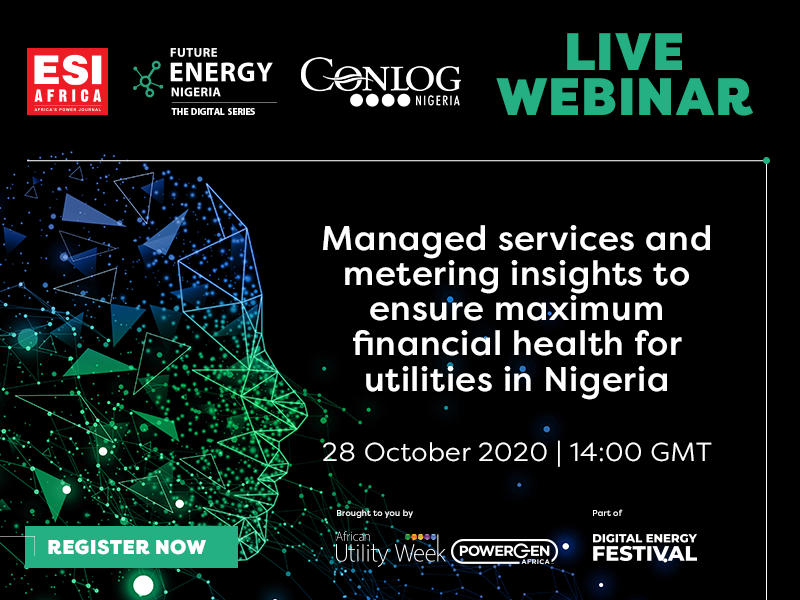 With the implementation of the Meters Asset Providers (MAP) programme, DISCOs have seen an improvement in metering and revenue management.
However, if revenue collection from electricity sales start to fall owing to the ongoing global COVID-19 pandemic and proposed tariff increases, the impact will be devastating, and any ground gained will be lost.

Future Energy Nigeria, the Digital Series, in collaboration with African Utility Week and POWERGEN Africa and the leading power publication and platform, ESI Africa, are presenting a live webinar with global metering expert Conlog, focused on: "Managed services and metering insights to ensure maximum financial health for utilities in West Africa."

Date: 28 October 2020

Time: 17h00 EAT | 16h00 CAT | 14h00 GMT | 15h00 WAT

- REGISTER HERE
Our expert panel:
- Elungile Mzimba, General Manager: Conlog Nigeria, Nigeria
- Desigan Govender, Product Manager, Conlog, South Africa
- Lance Hawkins-Dady, R & D Manager, Conlog, South Africa
- Sibusiso Skosana, Commercial Director, Conlog, South Africa
- Viven Perumal, Marketing Executive, Conlog, South Africa
Utilities pivoting to digital
A report from the Association of Nigeria Electricity Distributors (ANED) at the end of 2018 revealed that the DISCOs collected N422.5bn in 2018, up from N344.7bn in 2017, with the collection efficiency rising to 65% from 60% while the aggregate technical, commercial and collection losses dropped to 49% from 54%.
More recently, ANED reported that "The aggregate ATC&C loss KPI (moving average) keeps consistently improving and it is now at 43.3%, although, and again Ikeja Electric (IE) has achieved a new record of 20.6% and, in a commendable way, Kano has reduced almost 20 points of ATC&C losses in just two years."
During 28 October webnar, Conlog's experience will be showcased in assisting utilities in their pivot to digital in a time of huge uncertainty and financial pressure. In addition, the discussion will focus on the importance of process management at the time of installation and how technology can facilitate seamless integration of meters into your network.
The sessions will highlight the importance of remote insight into power usage, customer purchase patterns and detecting potential fraud. In addition, the panellists will examine how easily, seamlessly and cost effectively utilities can deliver superior customer service through remote vending, managed metering services and Conlog's cloud platform – saving utilities money and improving on their customer engagement.
Digital Energy Festival
The webinar also forms part of the Digital Energy Festival for Africa when four of Clarion Events' leading energy brands join forces with an unprecedented six-week tour de force of quality content and engagement from one point of entry, making it the largest ever energy event for the African continent.
The organisers of Africa Energy Forum, African Utility Week & POWERGEN Africa and the Oil & Gas Council's Africa Assembly and the leading energy journal ESI Africa will jointly host the Digital Energy Festival from 20 October to 26 November 2020.
Multi-award-winning events
The next live, in person edition of African Utility Week and POWERGEN Africa will take place from 11-13 May 2021 at the Cape Town International Convention Centre.

Clarion Events Africa is a multi-award-winning Cape Town-based exhibition and conference producer across the continent in the infrastructure, energy and mining sectors. Other well-known events include the Utility CEO Forums, Future Energy East Africa, Future Energy Nigeria, Nigeria Mining Week, Africa Mining Forum and DRC Mining Week. Clarion Events Africa is part of the UK-based Clarion Events Group's Clarion Energy Series, which runs over 40 events that cover the oil, gas, power and energy sectors, making it one of the group's largest portfolios.
African Utility Week and POWERGEN Africa dates and location:
'Digital Energy Festival for Africa': 20 October-26 November 2020
Digital conference and matchmaking: 24-26 November 2020
Venue: Online
Live, in-person conference and exhibition: 11-13 May 2021
Venue: CTICC, Cape Town, South Africa
Website: https://www.african-utility-week.com/
Twitter: https://twitter.com/AfricaUtilities
Linkedin: African Utility Week and POWERGEN Africa

Media contact:
Senior Communications Manager: Annemarie Roodbol
Telephone: +27 21 700 3558
Email: annemarie.roodbol@clarionevents.com