24 Oct 2019
Heightened interest in LNG stimulates Africa's gas economy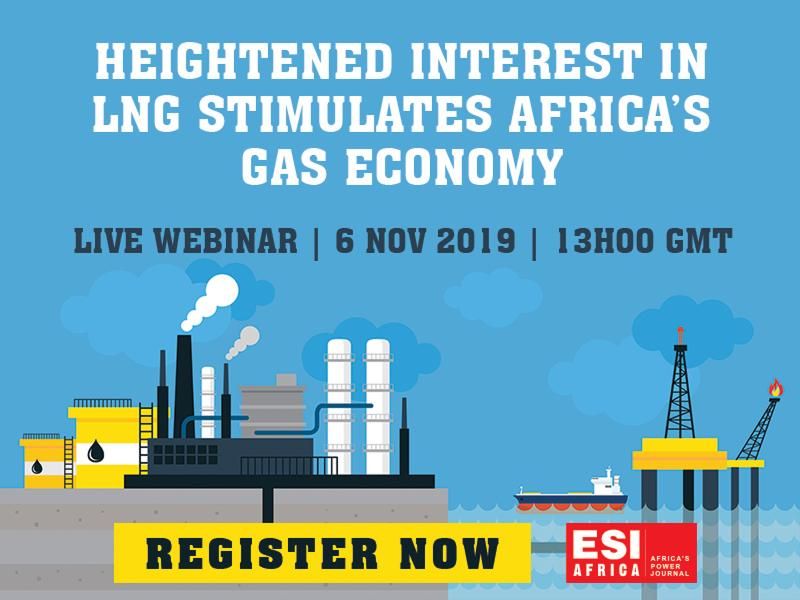 The African LNG market holds 7.1% of proven global gas reserves and is expected to contribute nearly 10% of global production growth through to 2024. On the demand side, Africa's large, urbanised and industrialised societies of the future will require reliable and sustainable power generation.
"Gas should also be able to attract investments in economic activity including manufacturing, which in turn creates the necessary jobs," states South Africa's Minister of Mineral Resources and Energy, Gwede Mantashe.
South Africa has joined other leading African gas exporters such as Nigeria, Egypt and Mozambique in realising full potential of its gas reserves. South Africa through its recently released Integrated Resource Plan makes provision for gas to power projects.
In order to get a better understanding of the gas market – particularly the exploration of LNG – ESI Africa is organising a webinar titled Heightened interest in LNG stimulates Africa's gas economy, which will take place on 06 November 2019 at 13h00 GMT.
During this webinar, the guest speakers will share perspectives on how the regulatory framework is shaping the gas market.
To register for the webinar, click on the link below.
https://goto.webcasts.com/starthere.jsp?ei=1262037&tp_key=30cff38178
For more information on this webinar contact:
Babalwa Bungane | Content Editor
babalwa.bungane@spintelligent.com | +27 21 700 3803

ESI Africa is the host publication of Future Energy Nigeria, Future Energy East Africa and African Utility Week. ESI Africa is Africa's leading power and energy journal – is positioned as an impartial industry mouthpiece, delivering the latest technical developments, breaking news and analysis in both print and digital formats.