02 Sep 2019
Ten East African CEOs confirmed for Utility CEO Forum at Future Energy East Africa in Nairobi this month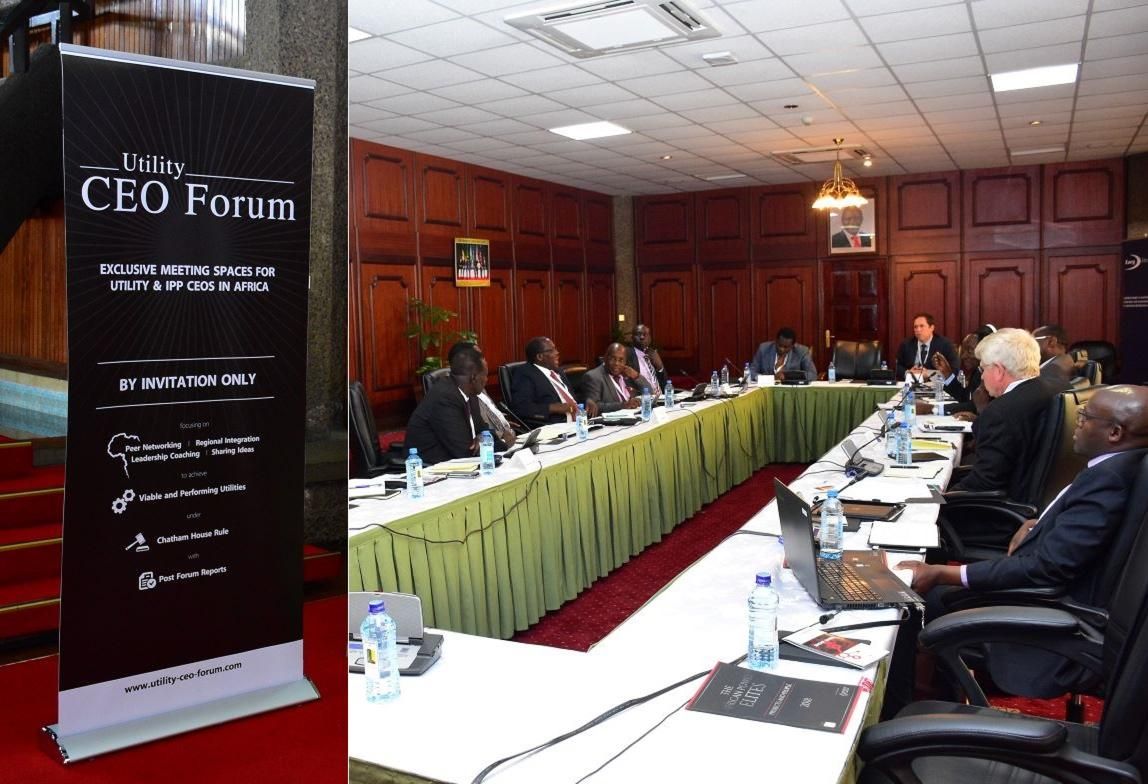 Ten utility CEOs from Kenya, Ethiopia, South Sudan, Malawi and Rwanda have confirmed their attendance at the Utility CEO Forum: East Africa 2019 that is taking place during the upcoming Future Energy East Africa conference and exhibition at the KICC in Nairobi from 17-18 September.

The forum is a closed, by-invitation-only meeting for utility CEOs to gather under Chatham House Rules to discuss pressing issues and pave the way for transformation and deeper collaboration.
Confirmed so far for the Utility CEO Forum: East Africa are:
Beck Awan Deng, Chairman & General Manager, South Sudan Electricity Corporation, South Sudan
David Muthike, Strategy & Business Performance Director, KenGen, Kenya
Jared Omondi Othieno , CEO, Kenya Power, Kenya
Rebecca Miano, CEO, KenGen, Kenya
Shiferaw Telila, CEO, Ethiopian Electric Utility, Ethiopia
Allexon Chiwaya, CEO, Escom Malawi, Malawi
Jean Claude KALISA, CEO, Energy Utility Corporation ltd, Rwanda
Mike Nolan, Engineering Director, Biojoule Kenya, Kenya
Norman Wanyiri, General Manager, Gulf Power Limited, Kenya
Sending a representative - Abraham Belay, CEO, Ethiopia Electric Power Corporation, Ethiopia
Future Energy East Africa
The 21st edition of the Future Energy East Africa conference and exhibition will focus on the enormous progress that has been made in the region in terms of access to energy and the increasingly important role of mini and off-grid projects to meet targets.
The 2019 edition will bring together leaders from the regional and international power and energy community, including more than 400 regional conference delegates and over expo 1000 visitors and more than 80 exhibitors.

The confirmed opening session speakers on Tuesday, 17 September include:
Dr Joseph Njoroge, Principal Secretary, Ministry of Energy and Petroleum, Kenya
Nyamu H Githaka, Senior Director in the President's Delivery Unit responsible for Energy Sector projects, Kenya Investing for a vibrant East African energy sector
Patrick Obath, Chairman, Standard Chartered Bank, Kenya
Amar Inamdar, CEO, Kawisafi Ventures, Kenya
Some speaker previews from the Future Energy East Africa Strategic Conference and Knowledge Hub programmes:
"There is a need for private sector participation in geothermal development to enhance deployment of this resource"
- Anne Kiburi, Senior Economist & PPP Officer at KenGen. During the strategic conference, Ms Kiburi is addressing delegates on "The role of the private sector in geothermal development in Kenya and East Africa."

"The main opportunity is EAC member states providing incentives to the solar mini grid operators; and enforcing demand side management"
- Dr.-Eng. Matthew Matimbwi, Executive Secretary of Tanzania Renewable Energy Association (TAREA) and Chairperson East Africa Renewable Energy Federation (EAREF). He is presenting a case study on: "The challenge of mini grid beneficiaries accessing the electricity for productive uses" and is also a panellist in the conference.

"We have been implementing mini grid projects since 2017 with a target of more than 25,000 connections to households and businesses in rural Kenya"
- Rita Nkatha Laibuta, Supervision Consultant: Green Mini Grids - Kenya Program, DFID/EU/AFD. During a conference session on "Bankability of mini-grid projects", Ms Laibuta will unpack the "Green Mini Grids PUE Guides and Access to Finance Pilot Program".

"I think we need to focus on getting affordable, modern electricity to everybody in Africa. That is what we are very passionate about doing"
- Dan Klinck, CEO, East African Power & Rubagabaga Hydro Power Limited, Rwanda. An event ambassador, Dan will share his experience in "Maintenance strategies for large scale hydropower projects" in the Knowledge Hub at Future Energy East Africa.

"In 5 to 10 years' time, the energy space in the region will look far different as distributed power generation and smaller-scale renewable systems take the place of the conventional large-scale projects."
- Chalker Kansteiner, Founder, GridX Africa in Kenya and panellist in Nairobi on: "Financing renewable commercial and industrial energy projects".
The full interviews with these and other Future Energy East Africa expert speakers and partners, can be found on the event website: https://www.future-energy-eastafrica.com/media/expert-interviews#/
Industry support
Future Energy East Africa is the largest and longest running regional power conference and exhibition in East Africa, boasting both a strategic conference and a large trade exhibition.
Future Energy East Africa is organised by Spintelligent, a multi-award-winning Cape Town-based exhibition and conference producer across the continent in the infrastructure, energy and mining sectors. Other well-known events by Spintelligent include African Utility Week, Future Energy Nigeria, Nigeria Mining Week, East & Central Africa Mining Forum and DRC Mining Week. Spintelligent is part of the UK-based Clarion Events Group.
Future Energy East Africa dates and location:
Strategic conference: 17-18 September 2019
Venue: KICC, Nairobi, Kenya
Website: http://www.future-energy-eastafrica.com
Twitter: https://twitter.com/FutureEnergyHub
Linkedin: FutureEnergyAfrica

Contact:
Senior Communications Manager: Annemarie Roodbol
Telephone: +27 21 700 3558
Email: annemarie.roodbol@spintelligent.com