08 Aug 2019
African Power, Energy & Water Industry Awards and African Power & Energy Elites join forces to celebrate continent's energy pioneers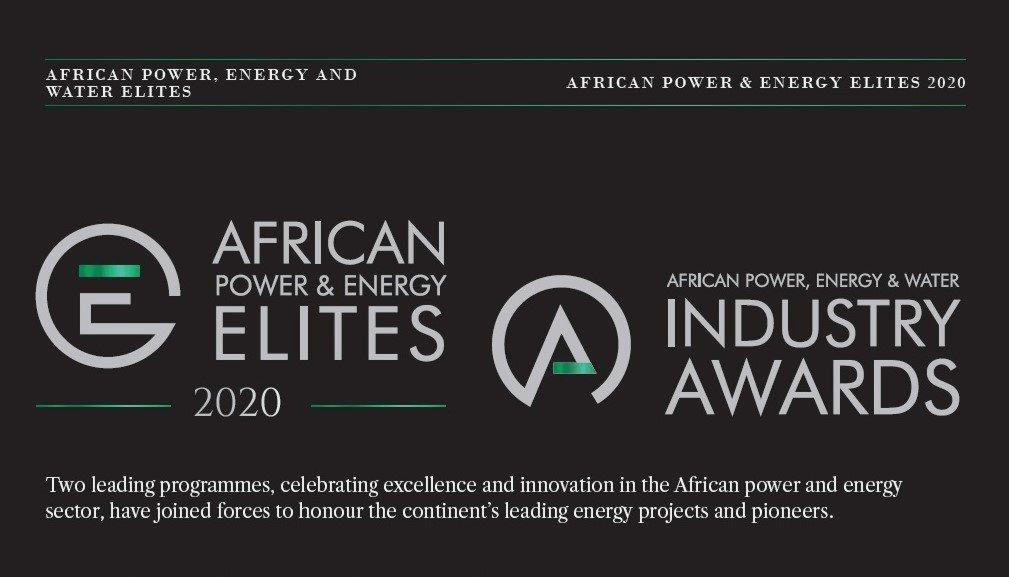 Two leading programmes celebrating excellence and innovation in the African power and energy sector, have joined forces to honour the continent's leading energy projects and pioneers.
The African Power & Energy Elites publication and the African Power, Energy & Water Industry Awards have aligned for their 2020 editions with a single nomination and selection process across a set of complementary categories.
For the last six years, the coveted African Power, Energy & Water Industry Awards have been taking place during African Utility Week and POWERGEN Africa conference and exhibition in Cape Town. Meanwhile, the prestigious African Power & Energy Elites publication has celebrated leadership and successful projects in the sector since 2016.

The newly combined awards programme will be known as the African Power & Energy Elites and offer even more benefits, recognition and exposure for the finalists and winners, apart from the quality publication and glamorous awards evening. These benefits include access to, and speaking opportunities at leading energy events on the continent, a seat at the awards evening, a VIP tour of Cape Town and surrounds and an on-camera interview at the Awards evening.

The respective Elites categories are focused on excellence in leadership and pioneering projects and are applicable to both the public and private sectors, extending across power generation, transmission and distribution, water, independent power producers and project developers.

The final selection of African Power & Energy Elites projects and leaders is made by an external advisory board composed of experienced industry figures from around the world.
Nomination categories:
Leadership
These are industry influencers who are innovative in their leadership approaches and strategies to improve the greater power and energy, and water value chain on a regional or country level. These leaders can be active in the private or public sectors and can include academia. Their influential role should be setting benchmarks in their respective industry sectors including, but not limited to, project design and development, engineering, technology and innovation, data related projects, mentoring and coaching of colleagues, legislation and finance.
Generation Innovation and Optimisation
Projects in which electricity producers have improved thermal power generation efficiency and/or capacity by developing and implementing advanced and innovative technology and solutions into an existing or new power plant. Things to consider include reduced operational or deferred capital expenditures, carbon and other emissions reductions, life extension, and plant upgrades. This category is applicable to projects that fall within either small, medium and large-scale.
Renewable Energy Generation Innovation and Optimisation
Projects in which electricity producers have utilised renewable power generation and new business offerings to meet growing customer demand for cleaner energy options. This can include the utilisation of blockchain or peer to peer trading facilitation, complex stakeholder engagement, utility facilitated residential storage or a complete restructuring of a business to accommodate the technology. This category is applicable to projects that fall within either small, medium and large-scale.
Rural Electrification
Electrification projects that have made a considerable positive impact to increasing energy access and electrification rates in urban, rural and informal settlements. These projects can be initiatives driven by government, private developers, or public institutions. The project can include any form of technology that increases power distribution to unelectrified communities for use in homes, schools, healthcare facilities, agriculture, and small businesses.
Transmission & Distribution
Projects that have provided growth in the transmission and distribution of electricity either locally, nationally or regionally. These projects can include LV, MV and HV new build programmes, maintenance projects, service delivery initiatives, technology roll-out programmes, revenue protection measures, technical and non-technical loss reduction, grid integration, and initiatives to increase network stability. Projects should have faced complex challenges.
Smart Cities
Projects undertaken as part of a smart city initiative which have driven an integrated energy, transportation, water or gas system as part of an overall city plan. Initiatives can include increased access to data which has led to energy, water or gas savings or enhanced management, or the overall implementation of a water, gas or electricity management and/or supply programme, wastewater management, green buildings and energy efficient programmes, transportation within the energy efficiency framework.
Finance & Investment
These models should be exemplary in their fields which can be in the form of traditional financing models, FinTech and interactive platforms such as crowdfunding that attribute to the development of small, medium and large-scale power projects.
Digital Transformation
The most transformative product or project of 2019/2020 – this can include innovations across the water, power and energy value chain (generation; transmission; distribution). Additionally, innovation and progression in the use of data & analytics; significant meter rollouts; and innovations in research and development, training and skills development.
Deadlines:
30 Aug 2019: Nominations close
30/31 Jan 2020: Digital publication is released to market on ESI Africa with the shortlisted people and projects
25 November 2020: Awards evening at African Utility Week and POWERGEN Africa
To nominate a person or project: https://www.clarion-events-group.com/AfricanElites_Nominations

Category descriptions can also be found at https://www.esi-africa.com/regional-news/africa/nomination-categories-african-power-energy-elites-2020/
The African Power & Energy Elites is an annual journal produced by ESI Africa in collaboration with the Clarion Power & Energy Series recognising industry achievements across the power and energy value chain.
African Utility Week and POWERGEN Africa is the flagship energy event organised by Spintelligent, a multi-award-winning Cape Town-based exhibition and conference producer across the continent in the energy, infrastructure, mining, real estate and agriculture sectors. Other well-known events by Spintelligent include Future Energy East Africa, Future Energy Nigeria, the Utility CEO Forums, Nigeria Mining Week and DRC Mining Week. Spintelligent is part of the UK-based Clarion Events Group and African Utility Week and POWERGEN Africa form part of Clarion Energy, which runs over 40 events that cover the oil, gas, power and energy sectors, making it one of Clarion Events' largest portfolios.
Contacts:
For exclusive sponsorship opportunities contact:
Errol Bryce: errol.bryce@spintelligent.com
Stephen Campbell: stephen.campbell@spintelligent.com
Loudon Cito: loudon.cito@spintelligent.com
For nomination enquiries contact:
Ashley Theron-Ord: Ashley.theron@spintelligent.com
Natalie Bacon: Natalie.bacon@spintelligent.com

Media contact:
Senior communications manager: Annemarie Roodbol
Telephone: +27 21 700 3558
Mobile: +27 82 562 7844
Email: annemarie.roodbol@spintelligent.com