22 Oct 2021
André de Ruyter gives exclusive Eskom update during Enlit Africa on Tuesday, 26 October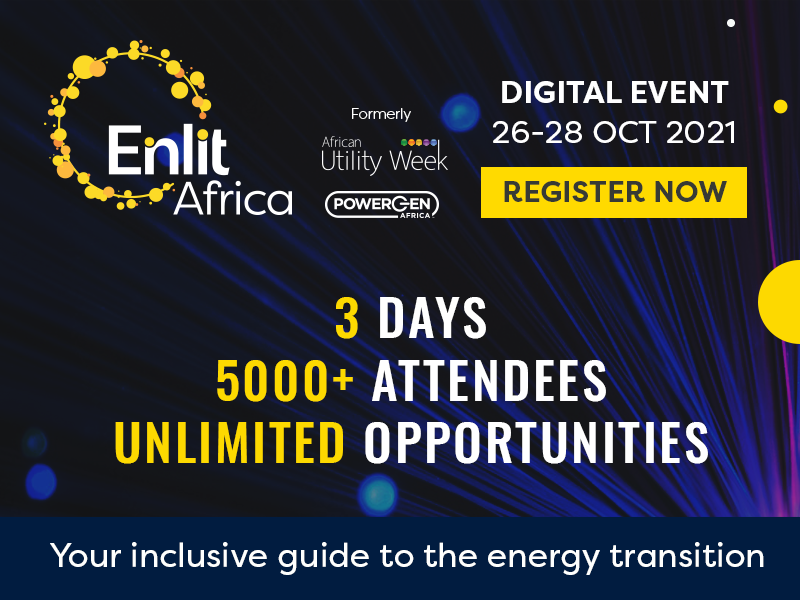 Eskom Group Chief Executive André de Ruyter will give an exclusive update on the progress that is being made on the five-point turnaround plan for South Africa's national utility during next week's Enlit Africa keynote opening session on Tuesday morning, 26 October.
The five-point plan covers achieving operational stability, improving income statements, strengthening the balance sheet, embarking on organisational restructuring and improving the culture.
In a frank conversation with Enlit Africa's content director, Claire Volkwyn, de Ruyter is expected, in particular, to comment on electricity sales following the COVID-19 pandemic and whether he believes the campaign against corruption at Eskom is receiving the necessary support from law enforcement authorities.
"It is clear that the Eskom CGE is cracking the whip and it is commendable what he has been able to achieve in the time that he has led the utility," says Volkwyn. "Certainly, Eskom is holding its people and its suppliers accountable. The R1.577-billion that was recovered from ABB just before Christmas last year, is the first step in the right direction."
Africa's energy transition
Eskom's de Ruyter will also address Africa's energy transition and the role that Eskom is expected to play in what many feel should be a 'just energy transition,' considering, in particular, how the coal industry will be affected.
As the leading platform and discussion forum for the power and energy sector on the continent, the next digital edition of Enlit Africa, taking place from 26–28 October 2021,will specifically focus on how the UN Climate Change Conference (COP26), taking place in Scotland in November, could provide the launchpad for Africa's energy transition.
Formerly known as African Utility Week, Enlit Africa will provide practical solutions to prepare the continent for a NetZero reality. The programme looks at various ways to achieve this; from LNG as a transitional energy source, municipal energy independence, e-mobility, and how Africa is preparing for, and what it is expecting from, the COP26 summit.
Keynote session on 26 October
The other headline speakers joining the Eskom GCE in Enlit Africa's keynote opening session on Tuesday, 26 October at 10h00 are:

Africa and COP26 – the position of the African Group of Negotiators on Climate Change
- Tanguy Gahouma-Bekale, Chair, African Group of Negotiators on Climate Change, Gabon
How COP26 could provide the launchpad for Africa's energy transition
- Haruperi Mumbengegwi, Legal Counsel - Power Sector, African Legal Support Facility, African Development Bank
- Faith Odongo, Senior Deputy Director of Renewable energy, Ministry of Energy, Kenya
Enlit Africa live session highlights also include:
To LNG or not: is that the question?
Speakers:
- Meike Wetsch, Unit Head: Capital Funding Office, Coega Development Corporation, South Africa
- Jarrad Wright, Independent Energy Analyst, South Africa
- Adrian Strydom, Executive Director, SA Oil and Gas Alliance, South Africa

Heading to COP26 - Has the pandemic derailed the climate finance agenda?
Moderator: Roland Nkwain Ngam, Programme Manager: Climate Justice and Socio-Ecological Transformation, Rosa Luxemburg Foundation, South Africa

Speakers:
- Jessica Stephens, CEO, AMDA, Kenya
- Patrick K. Tonui, Head of Policy and Regional Strategy, GOGLA, The Netherlands
- Vally Padayachee, Strategic Advisor, AMEU, South Africa
- Barbara O'Neil, Grid Integration Manager: NREL, representing Global Power Systems Consortium, US

Digital equity: Ensuring that digital advances are equitable and just
Speakers:
- Josephine Miliza, Africa regional coordinator (KICTANet implementer), community networks project, Association for Progressive Communications, Kenya
- Faith Keza, CEO, Irembo, Rwanda
- Yolande Tabo, Investor Relations Manager, Convergence Partners, South Africa
- Onica Makwakwa, Head of Africa Region, Alliance for Affordable Internet (A4AI), World Wide Web Foundation, South Africa

Focus on Water: Plugging the municipal revenue leak
Moderator: Nicolette Pombo-van Zyl, Editor, ESI Africa
Speakers:
- Konstant Bruinette, Senior Deal Originator, Development Bank of Southern Africa, South Africa
- Sydney Masha, Civil Engineer, Ethekwini Water and Sanitation, South Africa
- Siphindile Sikhosana, Senior Manager: Metering and Revenue, Joburg Water, South Africa
Power & Energy Elites
Formerly known around the continent as African Utility Week and POWERGEN Africa, Enlit Africa has been connecting the utility industry on the continent for more than two decades. October's digital edition is a precursor in the lead-up to the hybrid event in Cape Town in June next year.
In tune with this year's theme, leading power and event media partner ESI Africa will highlight the leaders and projects nominated to the African Power & Energy Elites annual publication. During next week's edition of Enlit Africa, the nominees for who will ultimately appear in the 2022 edition of the Elites publication will be announced.
Enlit Africa's successful transition to digital
The fast-growing attendee numbers and feedback from participants and partners fully support the remarkable and successful transition that the organisers of the event have made from in-person events to providing a digital forum for the industry to connect via live, online events on the Enlit Africa-Connect platform.

The June edition of the event, the third in the last 18 months, attracted more than 5,000 registered attendees, representing more than 70 countries and featuring 50 speakers.

All the previous Enlit Africa sessions remain available on demand on the event platform. For access, register on the Enlit Africa-Connect platform by clicking here.

Industry support
Eskom, the Department of Mineral Resources and Energy and the City of Cape Town have been official hosting partners of the event for many years and 2021 is no exception.

ESI Africa, the continent's leading news provider for power and energy news, is the official host publication.
Enlit Africa event is organised by The Vuka Group (formerly Clarion Events Africa), a leading Cape Town-based and multi-award-winning organiser of exhibitions, conferences and digital events across the continent in the infrastructure, energy, mining, mobility, ecommerce and CX sectors. Other well-known events by The Vuka Group include Africa Mining Forum, DRC Mining Week, Nigeria Mining Week, Smarter Mobility Africa, ECOM and CEM Africa.
Enlit Africa dates and venues:
Digital Event: 26–28 October 2021
Next live, in-person conference and exhibition: 7–9 June 2022
Venue: CTICC, Cape Town, South Africa
Website: www.enlit-africa.com
Media contact:
Annemarie Roodbol
Email: annemarie.roodbol@clarionevents.com