03 Jun 2022
City of Cape Town is Hosting Enlit Africa to Collaborate to Fast Forward Africa's Energy Transition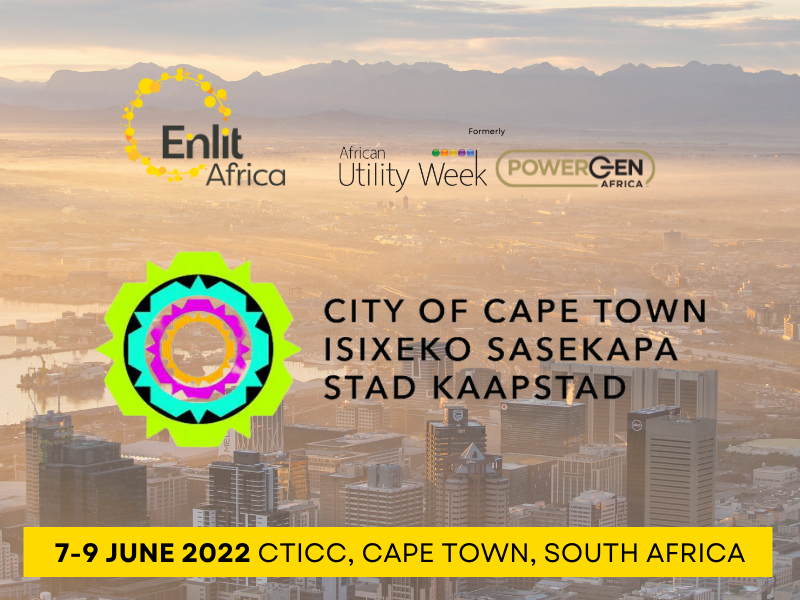 This year, popular energy showcase African Utility Week and POWERGEN Africa have combined to become Enlit Africa 2022, a platform where expert knowledge, innovative solutions and foresight from industry leaders will help shape Africa's energy transition.
From 7 to 9 June 2022, local and international experts and organisations from across the energy ecosystem will converge live at Cape Town's CTICC and online to explore opportunities to collaborate, mobilise investment and scale up the energy transition.
Over 22 years the conference and its exhibition have grown to become Africa's premier event for the entire power, energy and water value chain.

"The City of Cape Town is delighted to host Enlit Africa at our world-class Cape Town International Convention Centre from 7 - 9 June 2022," says Alderman James Vos, Mayoral Committee Member for Economic Growth at the City of Cape Town. "As a City, we are proud to be at the forefront of alternative energy use. Cape Town's evolving energy landscape is creating opportunities for investors, financiers, project developers, component manufacturers and suppliers wanting to invest in the energy services market. Cape Town is recognised as Africa's green economy hub and home to the Atlantis green tech special economic zone (SEZ). This epicentre of green tech activities offers opportunities and incentives to investors from all around Africa and the world."
The programme
For three days, delegates will immerse themselves in impactful discussions, exclusive networking opportunities - live and online - all against the backdrop of beautiful Cape Town.
They will be able to network with high profile industry players from 37 African nations through the Enlit Africa 2022 matchmaking platform. In addition to keynote addresses, attendees will hear from distribution companies, project developers, technology solution providers and regulators who will analyse the impact of new technology and embedded power generation during strategic conference sessions.
Exclusive roundtables will explore Africa's untapped energy investment potential, and the programme has a strong focus on African case studies and best practices promoting African solutions for African challenges. There will also be the opportunity for site visits to projects not generally available to the public.
The focus of this year is Collaboration to Fast Forward Africa's Energy Transition. "Collaboration between public sector and private sector, between utilities, regulators and government is a key enabler of the effort that is driving the energy transition," says Claire Volkwyn, spokesperson for Vuka, the event organisers.
She explains that the conference will highlight real, workable solutions to the current energy insecurity. "South Africa is battling with energy security at the moment, but we have the chance to fundamentally change how we produce and deliver power to our society in a way that could fast forward our power systems by 20 years – if we act now."
"Collaboration is vital. The combined efforts of the international community and the South African government to bring a deal of $8.5 billion to the table to support South Africa's energy transition is an example of what can be achieved. At Enlit Africa 2022, we will explore how such collaboration across the continent can be utilised to mobilise investment and scale up the energy transition," adds Volkwyn.
Speakers, exhibitors and sponsors
Speakers from the whole spectrum of the sector will put Africa's energy transition into context, outline the challenges and opportunities it presents, and spotlight the innovative projects and technological solutions that will shape the way we generate, consume and trade energy.
Speakers include: André De Ruyter, GCE, Eskom; Mark Carrato, Power Africa Coordinator, Power Africa, United States; Mandy Rambharos, General Manager, Just Energy Transition Office, Eskom, South Africa; Thabang Audat, Chief Director: Planning, Department of Mineral Resources and Energy, South Africa; Toto Matshediso, Deputy Director: Strategic Partnership, Department of Science and Technology, South Africa; and Siggi Huegemann, Chairman, African Hydrogen Partnership, Mauritius.
In addition to these and other speakers, more than 100 influential industry players, both domestic and international, will be exhibiting at Enlit Africa 2022. Various countries looking to do business in Africa, including Brazil, Belgium, Canada, Germany, Switzerland, Taiwan and the USA, will have pavilions at the exhibition.
There will also be a Green Hub that will highlight local products and services in the green economy, developed in collaboration with Green Cape, Wesgro, and the Atlantis Free Trade Zone which will showcase SMMEs in the green economy.
Enlit Africa 2022 is sponsored by GE, Conlog, ACTOM, Sulzer, SAP, Siemens, Gridspertise, Standard Bank, Megger, ECIC, Prime Alliance, Eskom, EATON and Oracle. Host Media is ESI Africa.
Not to be missed
"After two years of digital engagement, it is exciting to think about the buzz on the exhibition floor," says Volkwyn. "Old friends who haven't seen each other face to face for years will be discussing advances; new friends will be made while debating solutions and challenging ideas.
"Enlit Africa 2022 is the chance to see our attendees talking among themselves, engaging with the exhibitors and showing their commitment to creating a better energy future for everyone. We can't wait."

INDUSTRY SUPPORT
Eskom, the Department of Mineral Resources and Energy and the City of Cape Town have been official hosting partners of the event for many years and 2022 will be no exception.

ESI Africa, the continent's leading news provider for power and energy news, is the official host publication.
Enlit Africa (formerly African Utility Week and POWERGEN Africa) is Africa's leading exhibition and conference, gathering the power and energy industry's most influential professionals and decision makers from across the continent for three days of relevant, accredited technical and strategic conference seminars, valuable networking opportunities and access to world-class products and solutions.
Enlit Africa is organised by The Vuka Group (formerly Clarion Events Africa), a leading Cape Town-based and multi-award-winning organiser of exhibitions, conferences and digital events across the continent in the infrastructure, energy, mining, mobility, ecommerce and CX sectors. Other well-known events by The Vuka Group include DRC Mining Week, Africa Mining Forum, Nigeria Mining Week, Smarter Mobility Africa, ECOM and CEM Africa.
ABOUT ENLIT AFRICA
Website: https://www.enlit-africa.com/
Twitter: https://twitter.com/EnlitAfrica
Facebook: https://www.facebook.com/EnlitAfrica/
LinkedIn: https://www.linkedin.com/company/enlit-africa
To Register click HERE.