24 Nov 2020
Eskom CEO's push for cost reflective tariffs welcomed at Digital African Utility Week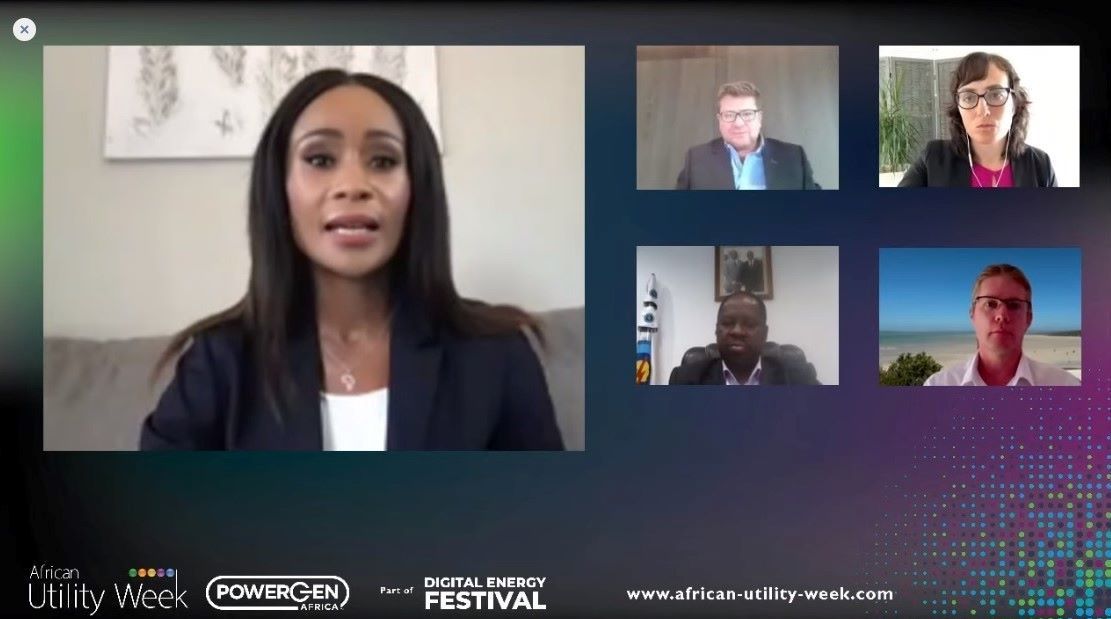 The event's keynote speaker, De Ruyter highlighted five core focus areas in his Eskom turnaround strategy. One focus area was addressing Eskom's income statement and pushing for cost reflective tariffs.
"So we need to continue pressurising our regulator for cost reflective tariffs," De Ruyter told delegates. "We are of the view that it's inappropriate for the taxpayer to subsidise the activity user. We subscribe to the user pays principle and therefore the tariffs have to be reflective of our reasonable costs. We're not asking for a subsidy for our own inefficiencies, but only reasonable benchmark costs."
Moderating the conversation, financial journalist Fifi Peters, added: "Definitely, the taxpayer in South Africa is quite tired of having to foot the bill for mismanagement and maladministration…"
Going in the right direction
Speaker Simon Hodson, CEO of development and investment platform Gridworks Partners, which is supported by the United Kingdom government, agreed that a shift to cost reflective tariffs is key to sustainability and investability.
"It feels like Eskom is going in the right direction," said Hodson. "And it's important to see that the business is being segmented into its component parts (generation, transmission and distribution). But probably most important is to see the pathway to sustainability; the reference towards cost reflective tariffs is so central to what needs to happen in the sector. This pathway to sustainability is very important because a pathway to sustainability is a pathway to investability, it makes the whole silo of activities in this space investible."
Key priority
From the private sector, Lisa Pinsley, Head of Africa, Energy Infrastructure, at leading investment firm Actis, said De Ruyter's speech was music to her ears. She agreed that low tariffs was a key priority.
"As a large private equity investor in South Africa and Africa in general, I really welcome [De Ruyter's] plans and priorities that he discussed in his interview," said Pinsley. "It's music to my ears, and I look forward to the implementation."
To date Actis has invested around $2 billion and intends to bid for South Africa's Risk Mitigation Independent Power Producer Procurement Programme (RMIPPPP), under which government aims to procure some 2 000 MW of dispatchable generation capacity for operation by mid-2022.
"I also have a huge amount of respect for the IPP (Independent Power Producer) office, which [De Ruyter] mentions and their ability to procure cheap power for the country," said Pinsley.
"It really is the best in the world. South Africa is one of our favorite markets. At Actis we've invested in 12 of the REI PPP (Renewable Energy Independent Power Producer Procurement) projects to date with total project costs at about $2 billion. So we're one of the big players and really look forward to doing more."
Other speakers included Clinton Carter-Brown, Energy Centre Head at South Africa's Council for Scientific and Industrial Research (CSIR); and Abel Didier Tella, Director General of the Association of Power Utilities of Africa (APUA).
To listen to the full session, please register on the Swapcard platform: https://www.african-utility-week.com/digital/general-admission
Enlit Africa
African Utility Week and POWERGEN Africa, for some two decades the flagship power, energy and water conference and exhibition on the continent, also unveiled its new name, identity and vision, Enlit Africa, during the opening session on Tuesday morning. The event ends on Thursday, 26 November.
Worldwide series

Enlit Africa forms part of a worldwide series of events focused on power, energy and utilities that have rebranded and are now under one unified brand, including partner events Enlit Europe, Enlit Asia and Enlit Australia. The Enlit series is part of the UK-based Clarion Events Group's Clarion Energy Series, which runs over 40 events that cover the oil, gas, power and energy sectors, making it one of the group's largest portfolios.
Clarion Events Africa is a multi-award-winning Cape Town-based exhibition and conference producer across the continent in the infrastructure, energy and mining sectors. Other well-known events include Nigeria Mining Week, Africa Mining Forum and DRC Mining Week.
Enlit Africa 2021 date and location:
Next, live, in-person conference and exhibition: 11-13 May 2021
Venue: CTICC, Cape Town, South Africa
Website: www.enlit-africa.com

Article issued by Enlit Africa.

Media contact:
Senior Communications Manager: Annemarie Roodbol
Telephone: +27 21 700 3558
Email: annemarie.roodbol@clarionevents.com