17 Jun 2020
GreenCape joins forces with African Utility Week on latest reports on green economy investment opportunities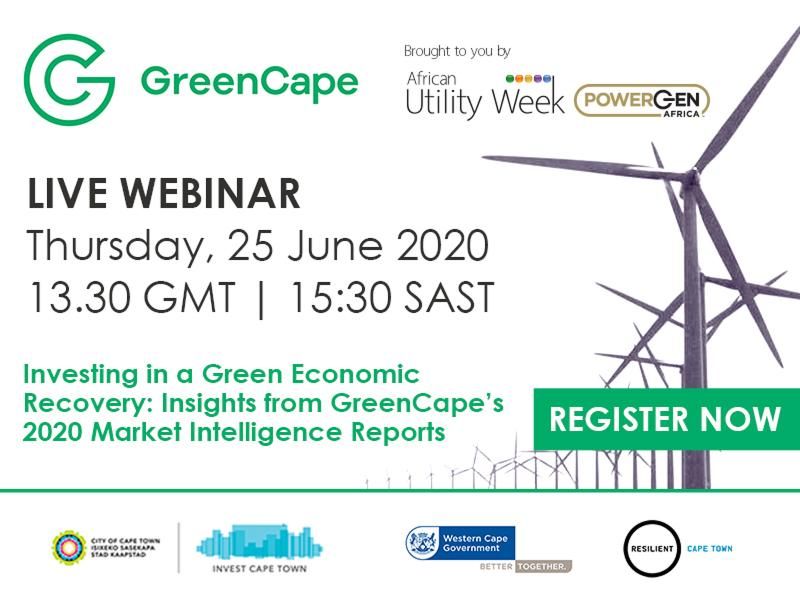 Leading green economy sector development agency
GreenCape
is joining forces with the long-running power and energy event platform,
African Utility Week and POWERGEN Africa
, on 25 June to discuss the latest investment opportunities in key sectors of the green economy.
GreenCape's annual Market Intelligence Reports (MIRs) include updated investment opportunities and highlight the relevant legislation context and potential market barriers and risks, specifically focusing on Energy Services, Utility Scale Renewable Energy, Electric Vehicles, Waste, Water and Sustainable Agriculture.
The upcoming GreenCape webinar session is in collaboration with African Utility Week and POWERGEN Africa Conference 2020, in partnership with Invest Cape Town, with MIR development support from the Western Cape Government's Departments of Economic Development and Tourism (DEDAT) and Agriculture (DoA).

The live webinar entitled "Investing in a Green Economic Recovery: Insights from GreenCape's 2020 Market intelligence Reports" will gather GreenCape industry experts to discuss in more depth the results of the recently released reports. It will take place on the ESI Africa multi-media platform on Thursday, 25 June 2020 at 15.30 SAST (13.30 GMT). Registration is free and attendees will be able to ask the panelists questions. Click here to register.
The webinar panel will comprise:

Moderator: Mike Mulcahy, CEO, GreenCape
· Jack Radmore: Energy Programme Manager, GreenCape
· Claire Pengelly: Water and Sustainable Agriculture Programme Manager, GreenCape
· Saliem Haider, Circular Economy Propgramme Manager, GreenCape
GreenCape MIRs widely consulted
"Investment aimed at growing the green economy ensures the sustainability of future economic opportunities. It also creates jobs now, which remains a strategic priority for the Western Cape Government, especially at this time, when economic recovery is a critical focus," says Minister David Maynier, Western Cape Minister of Finance and Economic Opportunities. "The GreenCape Market Intelligence Reports are widely consulted resources referenced by local and global stakeholders who are making green economy investment decisions," he added.
The following investment opportunities have been highlighted in the GreenCape Market Intelligent Reports in each of the key green economy sectors for 2020:
In response to changing demands, energy service providers are broadening their market offerings. The South African energy services market holds opportunities for equipment suppliers, project developers, technical advisors, and financial investors.
"There are three emerging opportunities for investors in the embedded generation market, namely a) rooftop PV system bundling with standardised contracting models; b) solar PV for energy resellers; and c) operations and maintenance-only contracts," said Reshmi Wolvers, GreenCape Energy Analyst. "Within the energy storage market, there is an emerging opportunity for behind-the-meter battery storage. The energy efficiency market has emerging opportunities related to energy efficiency as a service, and the retrofitting of South Africa's large stock of existing buildings," she added.
Utility Scale Renewable Energy
"Accounting for nearly 9% of installed capacity, the South African utility scale renewable energy sector is showing growth and potential with over 3.9 GW of utility scale projects already connected and operational," said Mandisa Mkhize, GreenCape RE Sector Desk.
The latest Integrated Resource Plan (IRP) 2019 allocations indicate 14 400 MW for wind, 6 000 MW for Solar Photovoltaic (PV) and a minimum of 4 000 MW of small-scale embedded generation (SSEG) to be procured by 2030, which has the potential of attracting in excess of R420 billion in the next 12 years.
Further market opportunities include an increase in local manufacturing potential in South Africa (wind energy [blade and tower] manufacturing, local PV panel manufacturing & local battery manufacturing); Utility scale batteries development and deployment; Municipalities exploring the option to procure directly from IPPs; Renewal and reissuing of Operations and Maintenance contracts of REIPPPP Bid Windows 1-4 projects; Refinancing of REIPPPP Bid Windows 1-4 projects.
While South Africa (SA) has not yet joined the ranks of countries experiencing a steep rise in EV uptake, it is likely that this will change as battery prices continue to fall. The emerging opportunities remain largely in the manufacturing of electric buses, passenger vehicles and lithium ion batteries.
"The South African waste economy continues to see a growing interest in the uptake of alternative waste treatment solutions and associated value chains. This has resulted in continued and increasing diversion of waste from landfill, both within the Western Cape, and the rest of South Africa. This is likely to accelerate in the next three to five years," according to Sam Smout, GreenCape's Waste Sector Desk. "Opportunities within the organic, e-waste, plastics and builders' rubble sectors have the potential to add between R661.3 and R1 086.4 billion in value to the economy per year."
"Water scarcity has been a key driver for investment in the Western Cape water sector due to severe drought conditions and expected longer-term water constraints in the region," said Raldo Kruger, GreenCape Water Sector Analyst. "This year however, we see a shift towards longer-term investment opportunities to improve water security and resilience, as key enablers of economic development."
"Specifically, the report focuses on insights and opportunities relating to two key urban water markets in South Africa, namely the industrial market and the municipal market," said Ashton Mpofu, GreenCape Water Sector Analyst.
There are emerging investment opportunities in: remote sensing technologies for precision agriculture applications (driven specifically to improve water efficiency and climate adaptation); undercover farming, which includes low-tech infrastructure such as shade netting and higher-tech controlled environment agriculture systems; and well-established investment opportunities in renewable energy and conservation agriculture. This MIR is developed in partnership with the Western Cape Provincial Government Department of Agriculture.
Leading event
Recently, African Utility Week and POWERGEN Africa hosted a very successful virtual event from 11-15 May 2020 with 11 free, interactive webinars after the 20th edition of the conference and exhibition was postponed to 24-26 November at the CTICC in Cape Town. It is a multi-award-winning and the leading conference and trade exhibition for African power, energy and water professionals. The event brings together over 10 000 decision makers from over 90 countries, including 35 African countries, to source the latest solutions and meet over 350 suppliers. Along with multiple side events and numerous networking functions, the event also boasts a CPD-accredited strategic conference and technical presentations with over 300 expert speakers.

About the organisers
African Utility Week and POWERGEN Africa is the flagship energy event organised by Clarion Events Africa, a multi-award-winning Cape Town-based exhibition and conference producer across the continent in the energy, infrastructure and mining sectors. Other well-known events by Clarion Events on the continent include Future Energy East Africa, Future Energy Nigeria, the Utility CEO Forums, Nigeria Mining Week, DRC Mining Week and Africa Mining Forum. Clarion Events Africa is part of the UK-based Clarion Events Group and African Utility Week and POWERGEN Africa forms part of Clarion Energy, which runs over 40 events that cover the oil, gas, power and energy sectors, making it one of Clarion Events' largest portfolios.
ESI Africa – Africa's leading power and energy journal – is positioned as an impartial industry mouthpiece, delivering the latest technical developments, breaking news and analysis in both print and digital formats.

Media contact:
Clarion Events Africa
Senior communications manager: Annemarie Roodbol
Telephone: +27 21 7003500
Email: annemarie.roodbol@clarionevents.com