HYDROPOWER INTERVIEW: "We get excited when competitors replicate our containerised solution. It points to its success."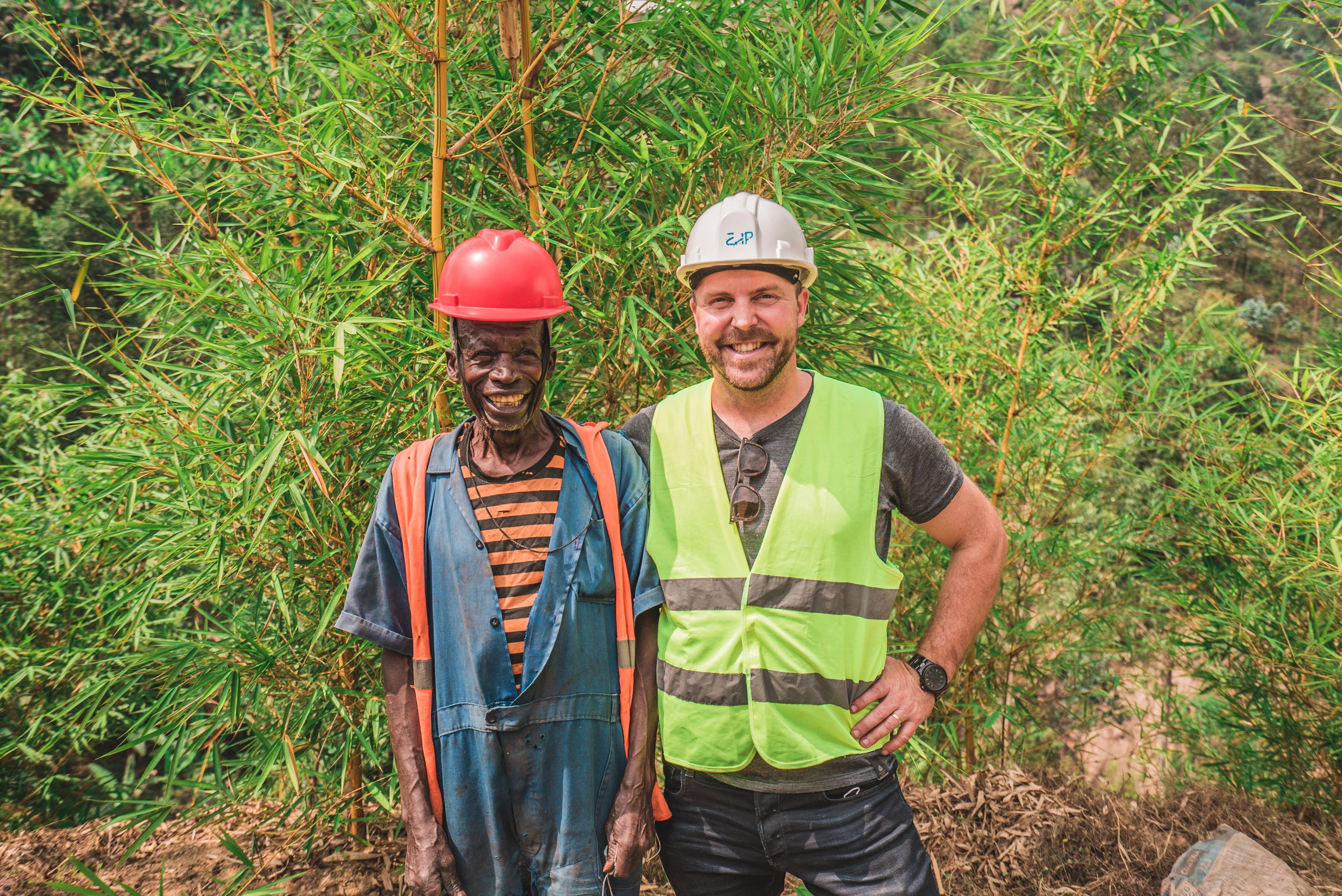 Interview with Dan Klinck, Founder & CEO of East African Power, who are developers of award-winning power projects on the continent. Dan is also an Enlit Africa advisory board member.

Let's start Dan with some background on you.
I'm from Canada and I have been living in Kigali, Rwanda for the past 10 years. I'm the founder and CEO for East African Power company that was built because it is so passionate about SDG7, is so passionate about the impact that electrification and access to energy that is clean, reliable and affordable, can do for poverty alleviation. So that's kind of the drive that's behind it. A decade ago it began with a very small project in northwestern Rwanda.

It's led to our activities and five operational plants, several in construction or in late stage finance. And an absolute passion about what's going to happen in the decade ahead.
So in the decade ahead, we've been able to bring together an amazing team that are like-minded and partners. We have over 100 full time staff. We're led by a five person executive management team, we have 12 people in our senior management team, we have more than 25 technical experts that bring hundreds and hundreds of years of experience, who are equally passionate about this small hydro and small solar world.

Our objective is to actually deliver on developing 100 utility scale plants over the next 10 years across more than 10 countries. We've had an exciting last 10 years, and we're really looking forward to this journey towards 2030.

People can be a little nervous about doing business in Africa, especially in the energy sector. What has made you so successful?
You know, I think when people are looking in a shorter time window, have tried to invest and then pull out and get a high level of return, they don't understand the risks. I think our success is kind of driven by our long term mind-set. I think to be successful as an entrepreneur, you have to be resilient and very passionate about the work that you're doing to overcome some of those short term hurdles. And if you have a medium to long term kind of perspective on things, I think it actually goes a really long way.

A few years ago you won the African Power, Energy & Water Industry Award for the Rubagabaga hydropower project in Rwanda. That is one of your success stories. How is the project progressing?
It's going really well, what an exciting project. Just a recap on that: It was half a megawatt, the first containerised hydro power plant in in Africa, it's running really well. And we've just been really thrilled about having learnt a lot of lessons with the first project.
So we have the, kind of, version 2.0, that will hopefully be coming out next year. And we've got a beautiful pipeline of projects, where we can replicate this. There are several other developers that are also really interested in these solutions. It's a plug and play. And the capacity to be able to install it in such a short period of time is quite an attractive solution, and also the ability to scale it up.
So while there might only be demand for half a megawatt now, we can deliver one containerised solution. If the demand doubles into an area, we can of course, stack them beside each other. So it's an exciting product, it's new.
We're also just excited to see other competitors and people in the field replicate it. So we've seen that there are a couple of others, I think it's Hydrobox or others, that have looked at the solution. So for us, it points to the success that other people want to replicate this technology. I think for us, our objective is to bring the technology to Africa. So actually, it's a made-in-Africa product. And so, we're talking to a lot of the component suppliers to be able to fabricate it in Africa for African solutions, and I think that will be perhaps our kind of version 3.0. That will be coming up in a couple of years.

COVID must have affected your operations, can we talk about that?
It's been quite a journey and I think every company has been hit by it. We have seen our revenues cut in half in 2020, a lot of our projects pushed off and have had difficulty accessing the sites. But what we actually witnessed was companies that are able to get through this are showing their resilience and strength.
So our employee growth has gone up by more than 25% during this period. We've been able to expand, pick up more projects, find other partners, get a greater understanding, and demonstrate our resilience. I think our company values of integrity and resilience are based on the Rwandan term "turi kumwei", which means we are together. So that togetherness really brought people together in a unique way that perhaps otherwise wouldn't have happened.
And then just the accelerated technological platforms that we're working on for communication and working with partners, we've actually seen a lot of cost savings that we can apply in the endef process. It's quite a complex process to develop these small scale projects, being able to implement the technologies for communication, project management and tracking. We've seen ourselves come out of it quite strong and that's gone a long way to illustrate to our partners that in the long view of this, this is just kind of a short stall, and we're looking forward to coming out of it twice as strong as we were before.

Do you agree that a lot of companies are going to do business differently post COVID?
100%. I think that our kind of priority is going to be in having online meetings rather than in person. I think there are tremendous cost savings with getting projects developed. Of course, it's different. But I think that we're actually going to be able to move faster and accelerate our access to energy targets in the private and public sectors, given our adoption of these technologies with communication, the way business is done, the way agreements are done, the way contracts are done.
It's quite exciting about what's ahead. And I think people have looked at what has happened with COVID. But look at the issues that are coming about with climate change. So, when you're looking at the type of impact that can come in place, if we don't make real drastic changes of accelerating renewables, you know, it's going to be much worse than the impact of C-19.

Is there a sector outside of energy, there are a lot of synergies, but is there a sector that inspires you? Because a lot of companies, for example, in the energy sector, look at telecoms, for example.
You know, certainly for us, we're quite focused on the generation side of hydro and solar as our core focus. But what we have seen is we have developed specific investment platforms for partners who are interested in energy and agriculture, or energy and health.
And so a lot of our projects have kind of been pulled together that tackle both of these issues. So during this kind of COVID period, there are a lot of investments that are driving towards providing that affordable and reliable power for health centres. And so we've kind of shifted and developed some specific projects for that.
And also on the access to agriculture. I mean, with the population in Africa, just in the next 30 years it's doubling from 1.25-billion to 2.5-billion, and the need for us to focus on food security is quite large. And looking at that balance between both.
Our core focus is on those utility scale projects, but we're seeing that not only are we seeing demand from public or from utilities, we're seeing probably 20% to 30% of our long term portfolio with commercial and industrial clients who want that type of security in their manufacturing and processing also.
I forget who coined the phrase but we like to call energy the golden thread that interweaves its way through the economic development that's needed. And so, it's just natural for us to see a significant amount of attention given to energy when other sectors are trying to drive forward.
Let's talk about ended Africa, you're on our advisory board. How excited are you about the new brand? Why is it important for the industry together like this?
Well, when the new brand came in, I hold a project company called Africa-lit and the idea of lighting up, it's encouraging for someone like me. You hate to see the terminology of the Dark Continent when you're talking about poverty in Africa. I think there's a new agenda to be brought up there of: Hey, this next decade is really exciting. There are tremendous opportunities on offer in Africa. And so the Enlit really kind of drives up that, it's "Africa lit," right? And in that it spells its way into how the conference has been moving and adopting new technologies, new platforms, new forms of communication, that are also tailored to specific areas or countries. I think it's been a great adoption.
And so the role of the advisory board is just to get other developers and members drummed up and excited, and ensuring that kind of continued dialogue on the public and private side. That's where the answers take place. So the more communication that can take place kind of builds that bridge, I think it answers and helps to accelerate that energy access.
And, of course, sadly, we didn't really have a chance to say goodbye to African utility week, this year, because we didn't have the live event and after 20 years, you know, we're just making a little bit of a fuss over it in the upcoming edition of ESI Africa. What is your favourite memory of African Utility Week?
(Laughs) When you have speaking engagements, that's on the front end of the later end of the shows, you end up kind of spending a lot of your time, you know, preparing for them, rather than kind of jumping into others. So certainly, I actually really loved the finance forums that were done. I think, really, that's where innovation needs to take place. Certainly, the cost of capital continues to be the number one kind of prohibitive part of accelerating cheaper and cleaner power.
So that dialogue of trying to unlock and where guarantees are, where the role of DFIs or their donors are taking place, and which aspects of the value chain. Very engaging, high-level dialogues there with top people, internal and external.

A lot of people don't talk about it but I miss the floor space. I'm coming from a finance background, but when you get onto the floor, and you start dialoguing with the different services or manufacturers or technology providers, there are great one-on-one interactions. You're often from different parts of the world communicating and then when you're there on the floor, you're able to meet new people, generate a lot of discussions. Yeah, so I think that energy is certainly missed.
And definitely a key highlight is there's not really that sense of competition. I think, as energy developers, you're really looking at a space of collaboration, especially on the off grid area where there's so much innovation needed in the business model. You're swapping stories, sharing the pains and the hardships, you're sharing the joys together. So it's that kind of community that's a little bit missed in the physical meeting. And certainly it's great to see Enlit trying to kind of replicate a bit of that in the smaller forums. But I would say, those are missed. And, of course, Cape Town is a very beautiful place in the world.
And you won that award in 2019…

Yes. Well, I think "I won" is one thing to say, but I'd say "we won". There were so many people involved with it, from thanks to the Rwandan government for their continued partnership. Hey, they're paying on time, I mean, that's a big thing too. We got the right kind of public private partnerships in place.
They're taking the electricity, they're paying for the electricity. Our teams, our partners from Norway, from smart villages, from EEP, were tremendous supporters through the whole project. Yes, so we couldn't be more thankful for the "we" aspect of realising it. It's good to feel as, kind of, the champion of driving it forward, but it was a collective effort.