25 Aug 2020
Nigerian power pioneers dominate annual African Power, Energy & Water Industry Awards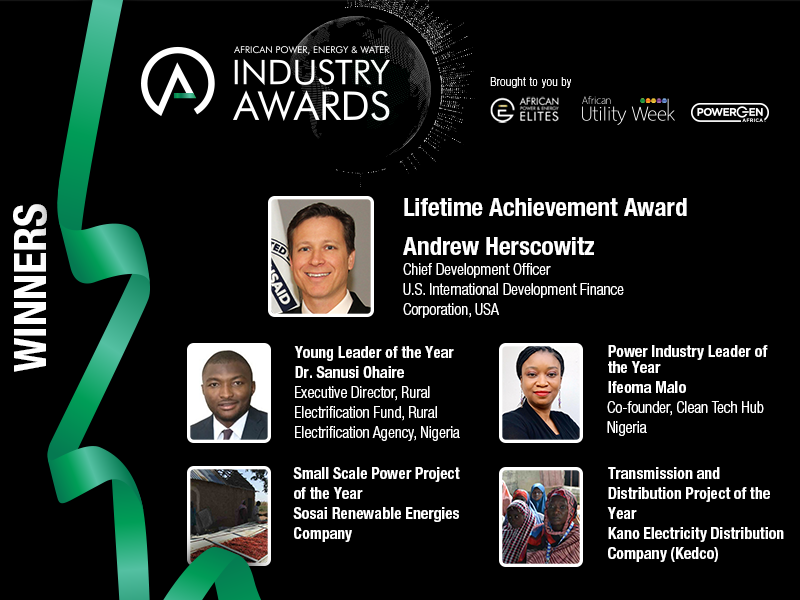 The Nigerian energy industry's finest dominated the 2020 African Power, Energy & Water Industry Awards which were broadcast live on Tuesday and can still be viewed online.
The seventh edition of the coveted African Power, Energy & Water Industry Awards, honour the most remarkable and inspiring energy projects and power pioneers on the continent.
During this year's digital, yet still stylish, celebration, the winners were celebrated by their peers and the judging panel. Ifeoma Malo, of Clean Tech Hub Nigeria, Sanusi Ohiare of the Rural Electrification Fund, Sosai Renewable Energies Company and KEDCO – all Nigerian - walked away with top honours in their respective categories for their ground-breaking contributions to the industry.

The Lifetime Achievement Award went to Andrew Herscowitz, Former Coordinator of Power Africa, USAID's programme to increase access to electricity in sub-Saharan Africa. His current position is Chief Development Officer at the U.S. International Development Finance Corporation.
- Click here to view this auspicious occasion.
THE 2020 AWARDS CATEGORIES AND WINNERS ARE:

1) Power Industry Leader of the Year
Winner: Ifeoma Malo, Co-founder, Clean Tech Hub Nigeria - Read full interview here
- "I want to say special congratulations to my good friend and sister Ify Malo for this amazing recognition which you completely deserve. I've gotten to know Ify quite a few years ago when she was in the public sector. But it was only when I got into the power sector and she was with Power4All and then with the Clean Tech Hub, that I've really really, really gotten to know her very well and I've appreciated everything that she has done. Not just for me but for the whole industry."
- Wiebe Boer, CEO of All-On, an off grid energy investment company, focused on Nigeria.
- "I have known Miss Ify Malo for five years now and I know her to be a very exceptional and a true leader. I knew her right from the time she was the Executive Advisor to the Honourable Minister of Power until she transitioned in her role at Power for All and more recently the Clean Technology Hub. She is somebody who believes a lot in teambuilding and giving people the opportunity to grow in their various capacities. On a personal note she has been a very good mentor to me and she has helped me in my own journey of entrepreneurship as well."
- Ifeanyi Orajaka, MDC of GVE Projects and Meters, Nigeria
2. Lifetime Achievement Award
Winner: Andrew Herscowitz, Chief Development Officer, U.S. International Development Finance Corporation and Former Coordinator, Power Africa, USAID – Read more about him here
- "I've known Andy for the last six years and have worked very closely with Andy on various initiatives in Africa. Andy is one of the smartest and one of the hardest working people that I have ever met. Andy is always willing to listen to new tools, to new methods, to innovation and he worked very hard at that in the energy access agenda in Africa. Well done Andy and good luck on your next move. All the best."
- Amadou Hott, Minister for Economy, Planning and Cooperation of Senegal.

- "I met Andy about five years ago at the Vice-President of Nigeria's office where he came to discuss the Power Africa programme and how impactful he saw the programme to Nigeria and the African power sector. We were all very skeptical because we thought: yet another donor programme. But to Andy's testament it is one of the most significant programmes on the continent to help actual power sector reform and it still remains today."
- Damilola Ogunbiyi, CEO and UN Special Representative to the Secretary General for Sustainable Energy for All.

- "When I think back about your history in Power Africa, and I think it's been over ten years now that we have worked together. Andy, you made Power Africa cool. Before that we did our one project a year if we were lucky and Power Africa has changed the market. We've done so many projects together. We've done Azura and Tibo Wind in Senegal and Kipeto in Kenya and South African renewables and there are more. It was your creativity in using the USAID toolbox that makes you deserve this Lifetime Achievement Award. I raise a glass and I hope to have one with you in person soon. Take care Andy, congratulations."
- Lisa Pinsley, Head of Africa, Actis Energy

3. Young Leader of the Year Award

Winner: Sanusi Ohiare, Executive Director, Rural Electrification Fund | Rural Electrification Agency (Nigeria) - Read the full interview here
Faruk Yusuf Yabo, Ag Director (Renewable Energy and Rural Power Access), Federal Ministry of Power, Nigeria says: "Dr Sanusi has been responsible for a number of the rural electrification projects that are happening today in Nigeria under the Rural Electrification Fund, impacting positively on lives of individuals and small businesses. projects. So it was not a surprise that he was being considered for this very important award."

"I must say, working with him I have seen a lot of leadership qualities, dedication and most importantly, his selflessness, he wants to help Nigeria. Also, it's very, very encouraging to other youth to understand that when given the opportunity, we are able to strive and get the desired results. So once again, congratulations my friend for bringing home this award."
- Ahmad Salihijo: MD/CEO, Rural Electrification Agency of Nigeria
- "I first met Sanusi Ohiari in my former role as MD of the Nigerian Rural Electrification Agency and have always been impressed with his energy, creativity and his willingness to tackle difficult issues. At a time when scaling up energy access through off-grid renewable energy solutions was not widely embraced, Sanusi's passion and drive helped transform the Rural Electrification Fund (REF) into the multi-faceted tool we know today – helping support local organizations deliver energy access to the populations that need it the most. His passion, purpose and drive to effect change has greatly impacted the growth of the Nigerian off-grid renewable energy sector. Congratulations on this much deserved award, Sanusi! I heartily congratulate you."
- Damilola Ogunbiyi, CEO and UN Special Representative to the Secretary General for Sustainable Energy for All.
4. Small Scale Power Project of the Year – determined by public vote
Winner: Sosai Renewable Energies Company – Read more about this project

- "SDG7 speaks to access to affordable, reliable, sustainable and modern energy for all. However, your project stands out because it built in economy as well. Small-scale installations often are criticised for not contributing to economic growth. However, people tend to neglect micro economies, especially in rural areas. Sosai have proven that electrification can transform people's lives, not just economically, but socially as well. Congratulations Sosai, you have enabled rural electrification, food processing, storage and the advancement of women entrepreneurs. Your project has provided 864 people with electricity and enabled five new businesses. This is remarkable and should serve as a blueprint for future projects in Africa."
- Lungile Mashele, Energy Specialist, Development Bank of Southern Africa.
- "It has been my privilege to be part of the judging panel for this year's Power & Energy Elites and in particular for the small scale power project category. We received large numbers of nominations of great projects that showcase that it is possible to provide energy access to rural people and with that initiate local economic development and social upliftment. I'm very glad that the winner of the award this year is combining providing mini grids, solar drying and solar kiosks and with that has been able to provide real economic and social development in the area they operate in and attracting entrepreneurs to start small scale businesses in that area."
- Wim Jonker Klunne, Energy4Africa, a senior consultant on renewable energy and energy access and member of the judging panel.
5. Transmission and Distribution Project of the Year – determined by public vote
Winner: KEDCO (Kano Electricity Distribution Company) - Read more about this project
- "KEDCO has done a great job. They were able to review their ATC&C from 62% to 47%. They were also able to raise their collection efficiency from 6% to 39%. This is no mean achievement. Their "Winning the Heart" model, which enabled them to achieve this feat, is recommended to all other African countries. Congratulations KEDCO."
- Alexander Kwame Osei, CEO of Lexan Energy Consult, Ghana
- "Anyone who has experienced power outages or poor supply as a result of aggregated technical and commercial collection losses, can relate to this project. This is why I believe the public voted for the Kano Electricity Distribution Company's project in Nigeria. Using a visionary "Winning the Heart" model, KEDCO redused their overall AT&C losses by 17% and achieved a nearly 200% increase of customers paying their bills. I am so proud of the success achieved by this project and excited to see what else is in the pipeline for KEDCO in the years ahead. Congratulations!"
- Nicolette Pombo-van Zyl, Editor ESI Africa and member of the awards judging panel.
Worthy nominees
The awards gala dinner was to take place during the upcoming African Utility Week and POWERGEN Africa conference and exhibition in Cape Town in November. However, as the live, in person event has been postponed due to the COVID-19 pandemic restrictions, the organisers of the seventh edition of the African Power, Energy & Water Industry Awards made sure that the deserving nominees and winners were still celebrated in style.

The final selection of African Power & Energy Elites projects and leaders was made by an external advisory board composed of experienced industry figures from around the world. This list of outstanding energy ventures and experts automatically became eligible for the African Power, Energy & Water Industry Awards.

While an independent panel once again performed the difficult task of determining the winner of the three different leadership awards, the industry was asked to participate and vote for their favourite project in the small-scale and T&D categories. Read more about all the worthy nominees as well as the criteria for the different categories here.

All the shortlisted individuals and projects already have been featured in the African Power & Energy Elites 2020 publication.
Awards & Elites joined forces
Earlier this year, the two leading programmes celebrating excellence and innovation in the African power and energy sector, joined forces to honour the continent's leading energy projects and pioneers. The African Power & Energy Elites publication and the African Power, Energy & Water Industry Awards aligned their 2020 editions with a single nomination and selection process across a set of complementary categories.
The African Power & Energy Elites is an annual journal produced by ESI Africa in collaboration with the Clarion Power & Energy Series recognising industry achievements across the power and energy value chain.
African Utility Week and POWERGEN Africa is the flagship energy event organised by Clarion Events Africa, a multi-award-winning Cape Town-based exhibition and conference producer across the continent in the energy, infrastructure and mining sectors. Other well-known events by Clarion Events Africa include Future Energy East Africa, Future Energy Nigeria, the Utility CEO Forums, Africa Mining Forum, Nigeria Mining Week and DRC Mining Week. Clarion Events Africa is part of the UK-based Clarion Events Group and African Utility Week and POWERGEN Africa form part of Clarion Energy, which runs over 40 events that cover the oil, gas, power and energy sectors, making it one of Clarion Events' largest portfolios.
Contacts:
For exclusive sponsorship opportunities for the 2021 edition of the African Power & Energy Elites and the African Power, Energy & Water Industry Awards contact:

Errol Bryce: errol.bryce@clarionevents.com
Stephen Campbell: stephen.campbell@clarionevents.com
Loudon Cito: loudon.cito@clarionevents.com
For 2021 nomination enquiries contact:
Ashley Theron-Ord: Ashley.theron@clarionevents.com
Natalie Bacon: Natalie.bacon@clarionevents.com

Media contact:
Senior communications manager: Annemarie Roodbol
Telephone: +27 21 700 3558
Email: annemarie.roodbol@clarionevents.com