09 Jul 2020
Oracle Utilities, Conlog, Nyamezela and Eaton support Utility CEO Forum: Central Africa with focus on financial sustainability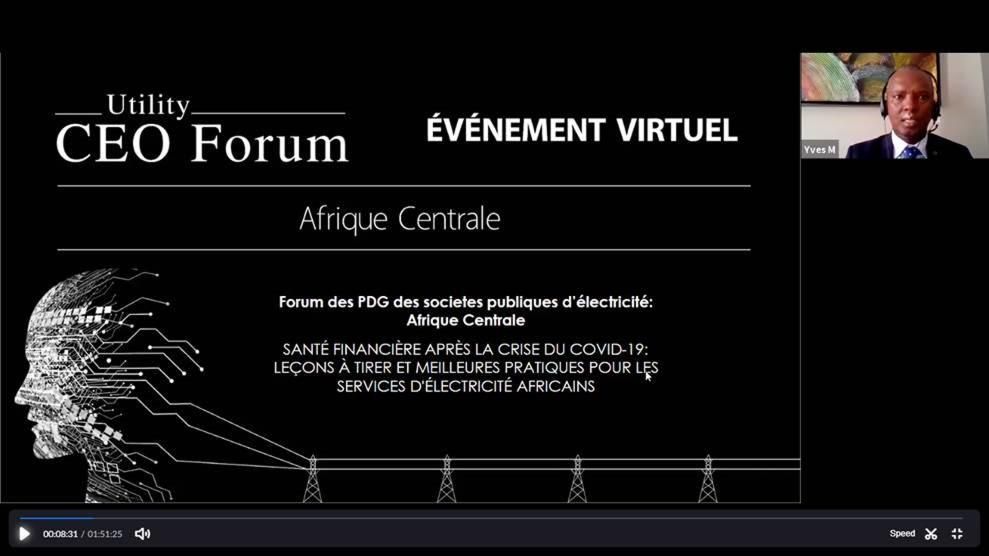 CEOs of some of Central Africa's leading power utilities, including DRC's SNEL, Cameroon's SONATREL and Congo Brazzaville's SNE, attended last week's annual
Utility CEO Forum
: Central Africa.
Leading expert partners in the industry, Oracle Utilities, Conlog, Nyamezela and Eaton, provided expert insights during the discussions with the utility executives that take place under Chatham Rules. Also part of the panels were the Forum's developmental partners, the African Legal Support Facility (ALSF), African Development Bank (AfDB) and Union of Producers, Transporters and Distributors of Electric Power in Africa (APUA). Another panelist was the Central African Power Pool's Permanent Secretary, Mr Jean-Chrysostome Mekondongo.
The Utility CEO Forum: Central Africa is part of a five-part series of regional meetings organized by Clarion Events Africa, that since 2012 has gathered utility CEOs and executives around the continent for in-depth, confidential discussions with expert and developmental partners to support them in their daily responsibilities as well as long-term challenges.
Robust discussions with key objectives
The event manager Nomvuyo Tena describes as "robust" the discussions that took place during last week's invitation-only two-day gathering that was facilitated through a live, online webinar. "Even before COVID-19 changed the way we work and do business," says Ms Tena, "most utility CEOs expressed the need to unpack their biggest challenge – financial sustainability. The Utility CEO Forum for the Central African region, had key objectives, with the first day being focused on understanding how utility executives navigate challenges. Utility CEOs looked at the role cost reflective tariffs play in the financial sustainability of a utility when balancing electricity access, political interests, regulator influence and currency depreciation. CEOs also unpacked who would be the most important stakeholder in achieving financial sustainability."
"The key objective of the second day was to provide utility CEOs with practical and realistic solutions" says the Utility CEO Forum event's Nomvuyo Tena, adding, "utility CEOs and partners discussed how they could start optimising functionality in utilities and what profitability looks like to them. Utility CEOs were then afforded the opportunity to have one-on-one meetings with key expert partners to further unpack solutions offered and to create a roadmap for how to achieve financial sustainability."
Expert partner feedback
"Oracle had the honour of joining the Central African Utility CEO Forum" says Mike Ballard, VP Industry Strategy at Oracle Utilities. "In a time where utilities around the world are facing common challenges of reduced revenues and new working practices, whilst continuing to supply electricity, water and gas to the community, these virtual events are a great opportunity to meet, share experiences and generally just stay connected. I have found these virtual sessions have encouraged more focused and concise contributions as time is limited and with the lack of need for travel, we can actually increase the frequency and effectiveness of these meetings throughout 2020 and beyond."
Ballard continues: "as we all get better at virtual meetings, I believe these will become an enduring format for our industry. Perhaps an unforeseen silver lining of these travel restrictions will be an even better connected industry across the African continent in the future."
"It is great to hear, discuss and solve challenges that our African Utility CEOs face" says Viven Perumal, Conlog's Marketing Executive who was also part of the Utility CEO Forum discussions. He adds: "financial sustainability of utilities is so critical in providing access to energy and services that our African citizens need. Conlog is excited to be part of the solution to enriching lives by connecting people and resources."
The dates for the upcoming regional Utility CEO Forums are:
Utility CEO Forum: Southern Africa – 5-6 August 2020
Utility CEO Forum: East Africa – 1-2 September 2020
Utility CEO Forum: West Africa (Francophone) – 1-2 October 2020
Utility CEO Forum: West Africa (Anglophone) – 10-11 November 2020
The Utility CEO Forums are organised by Clarion Events Africa, a multi-award-winning Cape Town-based exhibition and conference producer across the continent in the infrastructure, energy and mining sectors. Other well-known events include African Utility Week and POWERGEN Africa, Future Energy East Africa, Future Energy Nigeria, Nigeria Mining Week, Africa Mining Forum and DRC Mining Week. Clarion Events Africa is part of the UK-based Clarion Events Group's Clarion Energy Series, which runs over 40 events that cover the oil, gas, power and energy sectors, making it one of the group's largest portfolios.
Utility CEO Forum contact:
Event Manager: Nomvuyo Tena
T: +27 (0) 21 700 3537
M: +27 (0) 71 840 1513
Email: nomvuyo.tena@clarionevents.com
Utility CEO Forum partnerships:
Business Development Manager: Loudon Cito
T: +27 (0) 21 700 3564
M: +27 (0) 82 226 8553
Email: loudon.cito@clarionevents.com
Websites:
www.african-energy-elites.com/ceo-forum/
www.clarioneventsafrica.com
Media contact:
Senior Communications Manager: Annemarie Roodbol
Telephone: +27 21 700 3558
Email: annemarie.roodbol@clarionevents.com