19 Feb 2019
SA Energy Minister Jeff Radebe to present keynote address again at African Utility Week and POWERGEN Africa in May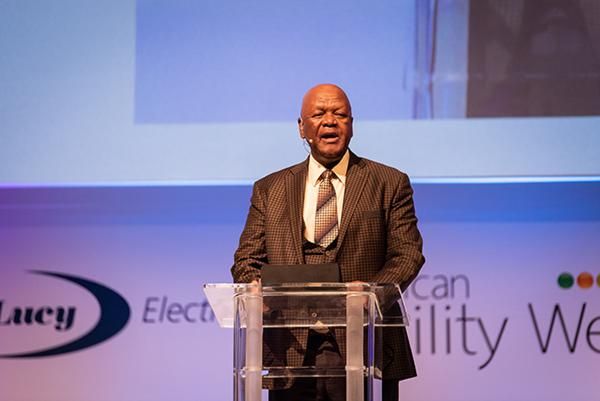 Mother City to welcome back 10 000+ energy and water professionals
Addressing the current landscape of water and energy projects all over the subcontinent, African Utility Week and POWERGEN Africa, in collaboration with the Department of Energy, is proud to announce the confirmation of the South African Minister of Energy, Honourable Jeff Radebe, who will form part of the stellar line up at the opening ministerial address on 14 May at the CTICC in Cape Town. The minister also opened this flagship industry gathering last year.

The new co-location of POWERGEN Africa at the 19th edition of the event from 14-16 May will add an expanded focus on generation, including renewables, off grid, fossil fuels and nuclear, while still concentrating on transmission, distribution, metering, new technologies including storage, mini grids, micro grids, IOT and ICT systems, as well as water.

Along with multiple side events and numerous networking functions the event boasts a five track strategic conference with over 300 expert speakers. An extensive Knowledge Hub programme that is CPD accredited and free to attend, offers hands-on presentations taking place in defined spaces on the exhibition floor. These discuss practical, day-to-day technical topics, best practices and product solutions that businesses, large power users and utilities can implement in their daily operations.

Other keynote speakers confirmed so far are:

- Dr Mark Swilling, Programme Coordinator of the Sustainable Development Programme in the School of Public Leadership; the Academic Director of the Sustainability Institute; and the Co-Director of the Stellenbosch Centre for Complex Systems in Transition.
- Prof Anton Eberhard, who the directs Managing Infrastructure Investment Reform Regulation In Africa (MIRA) at the Graduate School of Business at the University of Cape Town. He is also chairing a team appointed by South African President Cyril Ramaphosa to advise on turning Eskom around and restructuring the power sector.
Following the keynote session, conference delegates will break into five programme tracks.

The programme for 2019 follows the industry trend of connecting the full value chain, so content is not siloed by industry and reflects the many disciplines required for a modern, smart power industry:
The Future Cities conference will look at Africa's current urban living challenges and ask what is needed for the cities of tomorrow and who will be leading the way?
Learn about the finance and investment trends and forecasts for Africa's power infrastructure in the Power Strategy Development conference, tailored to utilities and companies with an interest in finance and investment as well as generation options.
The Smart Energy conference will combine metering-based topics with the latest smart grid solutions to equip the sectors leaders and innovators.
Energy Revolution Africa provides a dynamic meeting place for solution providers, consultants, renewable energy producers and the African and global energy minds to develop alternative solutions towards the acceleration of Africa's sustainable electrification.
The Water conference will bring together experts from public and private sectors to support municipalities as they become more responsive and efficient in their practices.
International pavilions
Apart from the official U.S. country pavilion at African Utility Week and POWERGEN Africa showcasing specialised technology and services for the utility, metering, renewable and water industries, country pavilions from Canada, China, Denmark, France, Germany, India and Poland have also already confirmed their presence at the 3-day event in May.

Industry support
A multi-award-winning conference and exhibition, African Utility Week and POWERGEN Africa has already secured early support from industry stalwarts including Conlog, Dromex, Landis+Gyr, Sumitomo and Utility Systems as platinum sponsors and Aberdare and Sulzer as gold sponsors.

The sixth edition of the annual African Power, Energy & Water Industry Awards also returns to celebrate pioneering utilities, projects and people in the energy and water industry on the continent during 2018/2019.
CEO Forum
The Utility CEO Forum an exclusive gathering of regional utility CEOs within the power and energy sector providing a unique, safe space for discussion and debate of the modern day challenges in running African utilities in a fast developing market with high political expectations and low returns within aging or no infrastructure. Confirmed industry expert and technology partners for this strategic gathering are Conlog, Eaton, Nyamezela, Ontec, Oracle and Steinmüller.

African Utility Week and the co-located POWERGEN Africa is the flagship energy event organised by Spintelligent, a multi-award-winning Cape Town-based exhibition and conference producer across the continent in the energy, infrastructure, mining and agriculture sectors. Other well-known events by Spintelligent include Future Energy East Africa, Future Energy Nigeria, the Utility CEO Forums, Agritech Expo Zambia, Nigeria Mining Week and DRC Mining Week. Spintelligent is part of the UK-based Clarion Events Group and African Utility Week and POWERGEN Africa form part of Clarion Energy, which runs over 40 events that cover the oil, gas, power and energy sectors, making it one of Clarion Events' largest portfolios.
Dates for African Utility Week and POWERGEN Africa:
Conference and expo: 14-16 May 2019
Site visits: 17 May 2019
Location: CTICC, Cape Town, South Africa
Website: http://www.african-utility-week.com
Twitter: https://twitter.com/AfricaUtilities #AUW2019
Linkedin: African Utility Week
Contact:
Senior communications manager: Annemarie Roodbol
Telephone: +27 21 700 3558
Mobile: +27 82 562 7844
Email: annemarie.roodbol@spintelligent.com